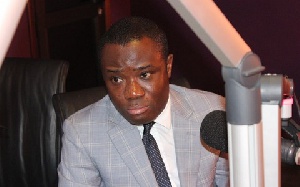 Mr Felix Ofosu Kwakye, a former Deputy Communications Minister under the immediate past National Democratic Congress (NDC) administration says Vice President Dr Mahamudu Bawumia has no powers to tell the former President, John Dramani Mahama when to talk and when not to.
According to him, attempts to stop the former president from expressing his opinions on issues of national concern he feels strong about will not yield any result.

Last Sunday during an NDC "Unity Walk" held in Cape Coast in the central Region, Mr Mahama said the Nana Addo led government was wasting its goodwill period by committing silly mistakes.

"I'll refrain from commenting on national issues because I think that, when a new government comes into power, you give it a honeymoon, so that it can settle but unfortunately it looks like the NPP government is wasting away its honeymoon period with mistakes that it is doing".

"Otherwise how can you launch a Google GPS system that is freely available on our mobile phones and say it is the best national addressing system? He quizzed, adding that "it's such a pity.

He went further and described the purchase of the system as a 419 scam whoe launch subjected the president, Nana Addo Dankwa Akufo-Addo to embarrassment.

Dr Bawumia while responding to Mr Mahama also said: "We know a 419 scam when we see one and that unfortunately was the hallmark of the administration of former president Mahama. Ghanaians will find out more soon as people are held legally accountable. With the record that former President Mahama has in the area of governance, it is incredible that he would have that effrontery to talk about '419 scam'…… I should note that propaganda".


However, the response from the Vice president did not go well with many NDC officials.

In responding to the Vice President's claim, Mr Felix Ofosu said Dr Bawumia has no right to talk to his boss in such manner. "Where does he derive his powers to question former president? He quizzed on Kumasi-based Hello Fm.

The GPS addressing system was purchased for GH¢ 15,000,000 but the NDC claims that same software could be bought for GH¢50, 000.