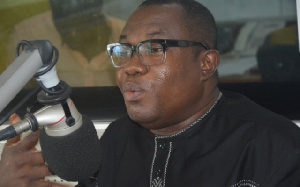 Director of Elections of the National Democratic Congress (NDC), Samuel Ofosu Ampofo has asked Vice President Dr. Mahamudu Bawumia to stop responding to every criticism of the government.
According to him, Dr. Bawumia was elected Vice President to assist in running of affairs of the State.

Mr. Ofosu Ampofo delivered this advice to the Vice President on Peace FM's 'Kokrokoo' programme while commenting on Dr. Bawumia's statement to former President John Mahama.

Dr. Bawumia described the former President as clueless and someone "parroting propaganda" after Mr. Mahama rubbished the government's National Digital Property Addressing System (NDPAS).

Former President labeled the NDPAS as a "419 scam", asking "how can you launch a Google GPS system that is freely available on our mobile phone and say it is a national addressing system. It is such a pity. Why will you embarrass the president so much?"

"You go and take a whole president to bring him to come and launch a system that is 419.

"When we talk about accountability, this is where the president should show that he is serious about corruption . . . The toughness of the fight against corruption is that you are able to take action against your own people and that is what we did when we were in office. Here the NPP seems unable to take, the president seems unable to take self-action in anything," Mr. Mahama added.
After Mahama's assessment of the system, Vice President Dr. Bawumia sought to educate the former President on how the new system works.

"When I read his reasoning for such a description, it was evident to me that he has no clue about what he was talking about and was just engaged in parroting propaganda. I actually had a good laugh. Let me therefore take this opportunity to educate him and others who may think like him about Ghana's landmark digital property addressing which has been achieved in less than one year, something his government could not do in eight years!" Dr Bawumia said.

He further stressed that it is prudent for one to "take your time to make sure you know what you are talking about otherwise you would be sadly exposed as being ignorant of simple facts as in this case".

But Mr. Ofosu Ampofo finds nothing wrong with the former President's comments about the NDPAS and so wondered why the Vice President would spend his time and energy responding to every bit of something a person says regarding the government.

According to him, though the system has got some good and bad sides, the Vice President should know that it was not built in isolation; in that the Mahama-NDC government provided the platform for the current administration to build the addressing system on.

He said the vice president has turned into the "Chief Propagandist of the government".


He made reference to the street naming system that the previous government spearheaded and believe that forms the basis for the digital address system.

"He has reduced governance to propaganda, and for me it's most unfortunate," he stated.

He also pinpointed some defects in the NDPAS and hoped the government will take notice of and rectify.

However, he wants to remind the Vice President of his position in governance, cautioning him to stop behaving like the "propaganda mouthpiece of the government".