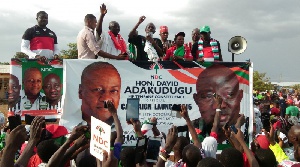 The General Secretary of the National Democratic Congress (NDC), Johnson Asiedu Nketia, has labelled Dr. Mahamudu Bawumia, vice presidential candidate of the opposition New Patriotic Party (NPP), as a "Trojan horse" heading for a disgraceful elimination by his own party after being "misused".
The scribe described the economist, who has been jabbing the ruling party hard for what he claims as mismanagement of the economy, as another "innocent Northerner" awaiting the same fate that struck Alhaji Aliu Mahama, the late politician who served for eight years as vice president in the Kufuor Government.

He was speaking Saturday in the Upper East region when the Member of Parliament for Tempane, David Adakudugu, took his turn to launch his re-election campaign towards the 2016 polls. The MP is the first parliamentary candidate to attract the party's most influential national executive to a campaign launch in the region ahead of this year's general elections.

"Bawumia is not a bad person but he is in a bad company. The NPP are not truthful to certain classes of people. They use people for their own benefits. And when it comes to a time to recognise the importance of the same people they have used, they ignore them. The NPP picked Aliu Mahama as a running mate to create an impression that they also respected Northerners. When Kufuor finished his term and Aliu Mahama, who automatically should have succeeded Kufuor, wanted to become president, he was strongly opposed, he was contested and he was booted out," the General Secretary, popularly known as General Mosquito, told the crowd.

He added: "Again, Bawumia is being used today to get votes from the North as Aliu Mahama was used. But let it come to a time Bawumia may want to take over the NPP's flagbearership, they (the NPP) will not allow him. The NPP, by their tradition, are very selective. They classify people into two groups. They believe we have first-class citizens and the second-class citizens. The NPP consider northerners as second-class people. There is no way they will incorporate northerners properly into their fold except when they want to use those from the north for a purpose."

NDC to dismiss independent candidates soon Whilst maintaining that the elephant party had continued to firmly oppose the implementation of the good plans the NDC had in stock for northerners, the General Secretary also insisted that the umbrella party would not cease to share the national cake fairly among all Ghanaians regardless of their locations.
"Every Ghanaian citizen is a Ghanaian citizen, irrespective of where you are born. And that is what NDC stands for. We stand for equality. We stand for equality of development. We stand for balanced development in the country. That is why, if you are in NDC, you know why you are in NDC. You are not in NDC because your brother, who is John Mahama, is leading NDC. Indeed, President Rawlings won more votes in the north here than President Mahama. It is about the parties and their beliefs. And we are saying that we believe in the equality of Ghanaians wherever they choose to stay. They are free to register; they are free to cast their ballots; and they are free to do whatever they want to do irrespective of where they are staying.

"Our colleagues on the other side believe that we have first-class citizens and second-class citizens. That is why our northern brothers in the south don't feel comfortable joining NPP. So, if Bawumia is allowing himself to be used as a Trojan horse, don't let them deceive you. He alone cannot change the policies of the NPP. They will continue to treat some people as first-class citizens and others as second-class citizens. When it comes to development, they will continue thinking that some places are more deserving of development than the other places. When you are extending electricity to other places, they think it is a waste of resources. When you are building more secondary schools in the north, they believe it is a waste of resources. We don't believe like that," the General Secretary stressed as the joyous crowd punched the air in loud agreement to his remarks.

He also touted some major development projects seen under the NDC governments to back his claims that the heart the NDC so much has for the north is rare within the NPP.

"We (the NDC) believe that Ghana is one country and everybody can enjoy their rights fully wherever they choose to live. That is why we have opened an international airport in Tamale. To balance the development gap, that is why we are opening universities in the north; that is why we are building more secondary schools in the north; that is why we are extending electricity to all places in the north, so that wherever you stay you can enjoy the same facilities as a Ghanaian," he stated amid cheers from party supporters and deafening honking of vuvuzelas from all angles as he unleashed venom on the country's biggest opposition party.

The General Secretary also announced the party's intention to revoke the membership of individuals who are going as independent candidates into the 2016 elections. The dismissal, according to him, shall be formally communicated at a news conference to be held anytime soon in Accra.
Old 'enemies' reunite for main battle ahead The campaign launch, held at Wodyanga in the Tempane Constituency, saw all the parliamentary aspirants who contested the primary in 2015 on 'brutal turfs' reunite with a strong pledge in front of the excited crowd to retain the seat for the NDC.

The MP, Mr. Adakudugu, dressed in a heavy white smock with a party-branded muffler around his neck, said he deserved another 4 years in Parliament having shown maximum commitment towards the development of the constituency and the welfare of the constituents.

In education, the lawmaker said he had supported 76 students financially and had distributed 1,380 mathematical sets to Basic Education Certificate Examination (BECE) candidates. He also disclosed that he facilitated the completion of the girls' dormitory at the Tempane Senior High School, supplied 300 mattresses, 500 copies of Business Management and Economics pamphlets, 20 laptops, 2,000 mathematical sets, 5 large-size cabinets and 9 cupboards to the same school and aided the recruitment of 20 non-teaching staff (16 cooks and 4 pantry hands) for the institution.

Other forms of support he said he gave to the constituency in the educational sector include the provision of 1,100 teachers' note 3 lesson notes books for schools, 10 packets of roofing sheets for schools, disbursement of Gh¢10,000 as scholarship packages for students, construction of 4 classroom blocks in four communities (Bugri, Bugpiigu, Gagbiri Natinga and Kugur), roofing of a classroom block at Bulpielise and rehabilitation of a kindergarten block at Bugri Natinga.

In health, he announced that he had distributed 60 mattresses for all health posts, secured 60 maternity beds for health centres, provided 60 benches for health posts, secured 10 motorcycles for health centres across the constituency, provided 20 flat-screen television sets and satellites for 14 health facilities and constructed a clinic at Terodiga.
According to him, 6 feeder roads had been awarded for rehabilitation, 13 feeder roads had been reshaped, two roads (50km long) had been approved for bitumen surfacing, 13 roads (68.50km long) have been improved and 6 feeder roads (45.25km long) have been rehabilitated in the constituency. In the power and energy sector, 35 communities, he said, had been connected to the national grid, with streetlights installed at Bugri and Basyonde, 1,500 LPG cylinders and 200 solar lamps distributed among households as well as 17 corn-mill machines shared among all the electoral areas in the constituency.

NDC winning Tempane hands down! On social interventions, he said he provided 100 bags of cement for rehabilitation of churches and mosques, purchased 10 packets of roofing sheets each for some 4 communities (Konkomada, Batiyok, Kpalsako-Champiani-Susudi and Basyonde), ensured absorption of all primary schools in the constituency into the Ghana School Feeding Programme with 90 caterers engaged, supported 7 elders to perform the the Holy Pilgrimage to Mecca (the Hajj) and constructed some market structures at Bulpielise and Nagani.

The MP said he had also accorded an appreciable measure of attention to the local authorities of his area, with the provision of 10 motorcycles for circuit supervisors, 150 stuffing chairs for chiefs, 150 benches for chiefs, 10 motorcycles for zonal officers, 1 motorcycle each for 8 zones (Tempane, Kpikpira, Worinyanga, Gagbiri, Bugri, Akara, Basyonde and Kongo) and 60 mattresses for queen mothers and women leaders (Magagias) in the constituency.

"I have drilled 41 boreholes across the constituency. I repaired borehole that broke down at Gelakologo and I supplied 20 bags of cement each for the lining of 7 hand-dug wells at Tarvaago, Builpielsi, Tempane and Puanaab. I must add that I have also secured approval to provide 20 more boreholes for 20 communities.

"It is boldly written everywhere that the NDC is changing lives and transforming Tempane. On that score, I also can boldly tell you that the NDC is winning Tempane in both the presidential and the parliamentary hands down! Our projects are everywhere and they are speaking for the party," Mr. Adakudugu, who together with the party's General Secretary and a host of party's big shots also presented generators to health facilities at the close of the launch, told supporters.
The Tempane Constituency was carved out of the Garu-Tempane Constituency in 2012 by the Mills Administration and Mr. Adakudugu, a former District Chief Executive for Garu-Tempane, became its first ever MP. He polled 13, 918 (52.25%) votes at the 2012 elections. The NPP's Joseph Akudibillah, a former Deputy Defence Minister, obtained 9, 737 (36.55%) votes whilst Laar Samson Kangben of the Progressive People's Party (PPP) attracted 2,858 (10.73%) ballots and Akugri Laadi, who represented the People's National Convention (PNC), got 124 (0.47%) votes.