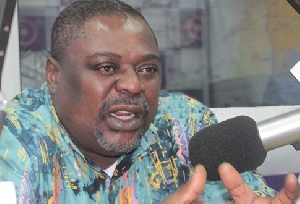 The Deputy General Secretary of the governing National Democratic Congress (NDC), Koku Anyidoho has asked Ghanaians not to make the mistake of electing the opposition New Patriotic Party (NPP) into power and having a serial liar in the person of Dr Mahamadu Bawumia as Vice President.
He has in the past few months launched a sustained attack on the person of the NPP running mate calling him a liar after Dr Bawumia, for failing to provide an iota of evidence to back his claims of over 76,286 Togolese nationals who vote in the Volta region.

The former Presidential Spokesperson has vowed to torment Dr Mahamudu Bawumia who's a former Deputy Governor of the Bank of Ghana if he fails to produce his 90% of Togolese on Ghana's voters register.
Addressing a rally of NDC supporters in Kumasi on Saturday, Koku Anyidoho stated that Dr Bawumia is a dishonest politician who has made lying his stock in trade and should not be rewarded with the second most highest office of the land.

"Bawumia has lied and lied and lied such that when he's walking, one can smell lies all over him. So people of Ghana, why should we allow an incompetent liar like Bawumia to become the Vice President of Ghana. An incompetent liar…his idea of competence is that, he as the Deputy Governor of Bank of Ghana, he supervised the re-denomination of the Cedi and he gave the contract to the brother of the NPP Flagbearer, Nana Akufo Addo called, Bomti Akufo Addo. Let's ask Bawumia how much money was given to Akufo Addo's brother before the re-denomination was done."