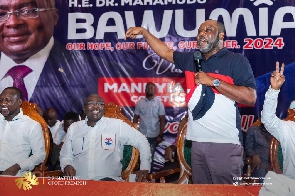 The Vice President, Dr. Mahamudu Bawumia, has received an endorsement from the Minister of Energy and Member of Parliament for Manhyia South, Dr. Matthew Opoku Prempeh, towards his aim to lead the New Patriotic Party as its 2024 presidential candidate.
Announcing this endorsement, the minister stated that all of the support of his constituency, Manhyia South, is for him as he vies for the vacant position, starting with the upcoming NPP special electoral college elections.

The special election has become necessary as the number of aspirants for the presidential candidate position have exceeded the required five candidates as stipulated in the party's constitution.

Speaking at a meeting of NPP delegates of the constituency, where Dr. Mahamudu Bawumia made a case for the delegates to vote for him, Dr. Matthew Opoku Prempeh said the vice president's sterling qualities, experience, deepest sense of loyalty, and sacrifices for the party make him the party's best foot going into the 2024 elections.

According to the energy minister, the party's quest to clinch a 3rd term electoral victory, popularly known in NPP parlance as 'Breaking the 8,' can only be possible if Dr. Bawumia is given the chance, as he has the needed character capable of uniting all sections of the Ghanaian society, including those from all religious backgrounds.

"The vice president has served well as vice president, defending the programmes and policies of our government and remains the only existential threat to the electoral fortunes of John Mahama and the NDC, of all the candidates vying for the flagbearership slot," he said.
Dr. Matthew Opoku Prempeh further stated that as his grandfather, the Asantehene, Otumfuo Osei Tutu II, has publicly professed that Dr. Bawumia is his son, it means that the vice president is his father and therefore, he cannot support any other person than him in the crucial contest.

Dr. Mahamudu Bawumia is in the Ashanti Region, the NPP's stronghold, for the next 11 days, where he will be convincing delegates in the 47 constituencies on why they should choose him ahead of the other 9 aspirants vying for the party's flagbearer position.




You can also watch this episode of People & Places here:




Watch the latest episode of Everyday People on GhanaWeb TV below:




AE/OGB