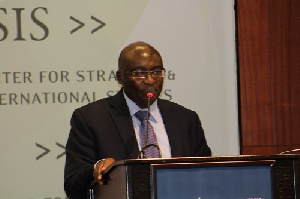 Vice President, Mahamudu Bawumia is leading a delegation of senior government officials to the United States and UK on a roadshow aimed at encouraging more private sector development into the economy.
The delegation which left Accra includes Senior Minister Osarfo-Marfo and Finance Minister Ofori-Atta.

The delegation also includes the Chairman of the Finance Committee, the Governor of the Central Bank, the CEO of the GIPC, the President's Advisor on Media and Special Projects, and the Deputy Minister of Energy, among others.

The delegation is expected to tell the improvement story of the economy so far and the plans put in place by government to ensure constant and consistent growth that will boost the economy.

They are also to meet with potential investors, donors and Ghana's bond-holders and other key stakeholders to attract new investors and create more jobs.


The team arrived in London on Tuesday to commence the Non-Deal Roadshow and met with various stakeholders to discuss the pillars of the government's economic management agenda.

The Vice President presented opening remarks regarding the government's immediate priorities to reignite the country's economy by creating jobs in the agriculture sector, cutting taxes and removing other barriers to investment and increased production.

Finance Minister, also presented the government's strategy for addressing the significant budget deficit and debt inherited from the previous administration.