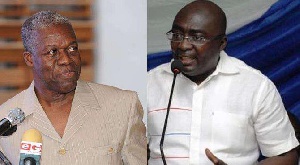 Former Finance Minister, Seth Terkper has called on the Vice President Mahamudu Bawumia to pull out his questions thrown at late Vice President Kwesi Amissah-Arthur and answer them first before calling for a "showdown" with former President John Mahama.
Speaking on Morning Starr with Francis Abban Tuesday Mr. Terkper explained that former President John Mahama as Vice President achieve a lot including the creation of GRA as an autonomous body which was a reform package put together in 2009.

"The criteria he gave to my boss, the late Amissah-Arthur, he has the question she should answer those same questions, is it not fair? He should answer the same question. He is not coming to a debate.

"So is he (Dr. Bawumia) going back to that era to have a debate? So he has the questions. He should pull out the questions and answer them. You remember he spoke about the fundamentals. The fundamentals don't vary from one period to the other," Mr. Terkper stated.

He continued: "Let me remind His Excellency that the Fiscal Responsibility Act which he championed including the oversight board said we should do a deficit of five percent. But they are at 12 percent if you add everything they are about 15 percent."

Background
Vice President Bawumia has assured the NPP that he is going to give the National Democratic Congress (NDC) a "showdown" in its strongholds in the 2024 elections.

Addressing NPP delegates in the Oti Region on Saturday September 09, 2023 Dr. Bawumia stated that Zongo and other strongholds of the NDC were just waiting for him to be elected as flag bearer of the NPP.

"People in the Zongo communities say they doubt that the NPP will ever make Dr Bawumia the flagbearer for the upcoming 2024 general elections. However, if they do bring Bawumia, we will vote massively for him. Thus, the NDC will lose massively in their two strongholds, the North and the Zongo communities, should Bawumia emerge as flagbearer."

"I will also win more votes for the NPP in the Volta region. Therefore, I will shake all their strongholds. That is why they (NDC) do not want Dr Bawumia to emerge as the flagbearer. Because they know that as flagbearer, I will give them a showdown in their strongholds," he stated.