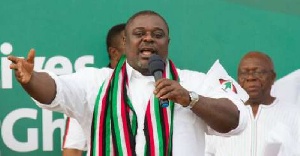 The opposition National Democratic Congress (NDC) continues to find ways of discrediting the GH¢ 15 Million Ghana Post GPS app that was launched recently indicating that it is a copy cut and not worth the amount stated.
On Accra-based Joy Fm, Deputy General Secretary of the party in charge of operations, Koku Anyidoho revealed that the app in itself is not full proof as it continues to mislead people.

He cited an instance where a resident of Lashibi in an attempt to use the controversial app to locate Mamprobi rather ended up in a public latrine at an unidentified location.

'I've been monitoring people's experiences with the GPS app someone ended up in a public latrine. Bawumia should know that he's no longer a running mate. He's the Vice President and we will respect him so he should stop lying to us", he said.

According to him, Dr Bawumia should be prepared to face prosecution for buying a copy cut app at an outrageous amount observing per discussions with their experts it should not cost more than GH¢50, 000.

"The app should not cost more than GH¢50, 000 per what our experts have told us but Bawumia and his people say it is worth GH¢15 million which makes it questionable", he disclosed.


But Vice President, Dr Mahamudu Bawumia insists that the comments of the opposition on the app reveal that they are clueless and need to be properly educated on it.

Explaining what it means, he said :" The National Digital Post Address System (NDPAS )is a national database system that provides the digital address for every landed property in Ghana. Basically every 5x5m property has a unique digital address on the grid with region, district and postcode. Under this system, 16.1 billion addresses have been generated for the whole of Ghana. It relies on surveyed data from Lands Commission and the Latitude and Longitudes to generate postcodes and addresses for every square inch of Ghana.

The NDPAS comes with the National Address Registry to keep records of all citizens on where they register as their office and residential addresses. The Platform comes with open Application Programming Interfaces (APIs) to allow third party application developers integrate into the system to be able to translate and use the digital addresses to help facilitate transactions.



It is important to note that the NDPAS is independent of Google and any other mapping tool. Google will not give the postcode, region or district for a particular location for example. It will not give you a register of addresses for every user. Banks for example cannot confirm an address by going to Google maps but they can do so through the NDPAS for registered users."