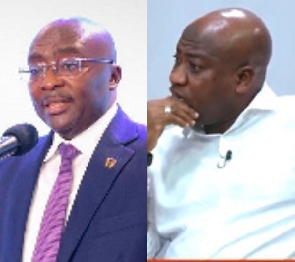 The Member of Parliament for Tamale Central, Ibrahim Murtala Muhammed, has criticized Vice President Dr. Mahamudu Bawumia for his promise to replace basic and secondary education textbooks with laptops.
He says the vice president's promise is just for political gains and is not well thought through.

Speaking in a 3FM interview on Tuesday, May 30, 2023, monitored by GhanaWeb, the MP said that the government currently cannot even print ordinary textbooks for students, but Dr. Bawumia is going around promising to give students laptops.

He accused the vice president of trying to raise money to fund his presidential ambitions with his proposal to replace textbooks with laptops.

"The only motivation behind this statement is that the vice president wants to get money to prosecute his campaign. So that they can give that money to somebody so that they can have their cuts.

"The laptops that they promised teachers in this country, we were all made to understand that the state was buying the laptops for them. Do you know they have deducted the monies from the teachers' salaries? Some of them haven't yet gotten their laptops, and for those who have got the laptops, they did not last for more than three months," he said.
The MP added that Bawumia's proposal would mean that education would be greatly affected in communities without electricity to charge the laptops he has promised students.

"A lot of communities in his (Dr Bawumia's) region, not far from his hometown, don't have lights… how are these people going to charge the laptops. So, this means that if the laptops are not charged, teaching and learning cannot take place," he said.

"… this is the most useless statement that I have ever heard, coming from a vice president who should know that we need to fix the problems at the basic levels before we think of giving tablets to the secondary schools," he added.

Background:

The Ministry of Education, under the guidance of the government, is making preparations to introduce laptops as replacements for textbooks in Senior High Schools (SHS) nationwide.
During the 60th Anniversary celebration of the Hohoe Evangelical Presbyterian Senior High School, Vice President Dr Mahamudu Bawumia announced that the laptops would be equipped with textbooks and other teaching and learning materials for use during lessons.

Dr. Bawumia emphasized that the initiative aims to prepare students to thrive in the global village.

He expressed the importance of investing in education as a means to propel the country forward in the right direction and build future nation-builders.

During his speech on Saturday, Dr Bawumia said, "The Minister for Education has also assured me that this year, we'll start the replacement of textbooks with laptops that have textbooks embedded in Senior High Schools."

This new initiative follows the government's launch of the One-teacher, One-laptop project on September 3, 2021. The project was initiated to provide SHS teachers with modern resources to enhance teaching and learning.
As of December 11, 2021, the Ghana Education Service reported that 80% of the laptops designated for teachers had already been distributed. The implementation of laptops as textbook replacements is expected to take place before the end of 2023.

You can also watch the latest episode of People & Places on GhanaWeb TV:








IB/OGB