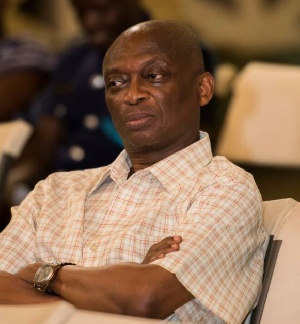 Seasoned journalist Kweku Baako has come to the defence of Vice President Dr. Mahamudu Bawumia for responding to the claims by former President John Dramani Mahama over the National Digital Property Addressing System (NDPAS) that he (Dr. Bawumia) has embarrassed President Akufo-Addo by introducing the project.
Ex-President Mahama, addressing party faithful at their Unity walk in the Central Region, rubbished the government's project to digitize the economy - GhanaPost GPS - describing it as a "419 scam".

"How can you launch a Google GPS system that is freely available on our mobile phone and say it is a national addressing system. It is such a pity. Why will you embarrass the president so much? You go and take a whole president to bring him to come and launch a system that is 419.

"When we talk about accountability, this is where the president should show that he is serious about corruption...The toughness of the fight against corruption is that you are able to take action against your own people and that is what we did when we were in office. Here the NPP seems unable to take, the president seems unable to take self-action in anything," Mr. Mahama said.

Following the former President's comments on the project, Vice President Dr. Bawumia released a statement demystifying issues to Mr. Mahama.


"When I read his (Mr. Mahama) reasoning for such a description, it was evident to me that he has no clue about what he was talking about and was just engaged in parroting propaganda. I actually had a good laugh. Let me therefore take this opportunity to educate him and others who may think like him about Ghana's landmark digital property addressing which has been achieved in less than one year, something his government could not do in eight years!" Dr. Bawumia replied during a Consultative Forum towards a Marshall plan for Agriculture.
Addressing both leaders on the Wednesday edition of Peace FM's Kokrokoo, Kweku Baako stated emphatically that he supports Dr. Bawumia and so, expected him to have a more "robust" response to the former President.

To him, he had wanted Dr. Bawumia's statements to Mr. Mahama to have been stronger than he did because the former President intended to criminalize the digital address system, an initiative by the government.

"I think it wasn't robust. What else did you want him to say when you criminalized the project? The project was criminalized".

Mr. Baako also targeted critics of Dr. Bawumia, following his quick riposte to the former President, saying "I don't see where Bawumia insulted former President Mahama. It was harsh. It was direct and I think that it was right...What did he say that was indecent? You know if I felt that way (that Bawumia's response wa indecent), I'd say it".