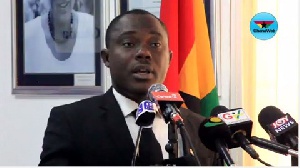 Vice-President Dr Mahamudu Bawumia's response to former President John Mahama in connection with the $2.5 million national digital addressing system which the latter described as "419", was excessive.
In his response, Dr Bawumia described Mr Mahama as "clueless" and "ignorant", adding that the former president would have done himself a great favour if he had read more about the project before coming out to speak about it.

Dr Bawumia also hinted that the government would soon start prosecuting officials of the Mahama administration for corruption.

But in a Facebook post on Tuesday, 7 November, Prof Gyampo said: "Please leave that for the party communicators, apparatchiks and commentators. Those who have indulged themselves in corrupt acts must be dealt with legally in a manner that does not create fear and suspicion of witch-hunting.

"Your threats to deal with them legally after sounding ballistic in your angered response to that criticism would create an impression in some minds that people are going to be punished for critiquing your government.
"Please remember that President Kufuor once responded harshly to President Rawlings but later apologised to Ghanaians.

"Again, please remember your own refrain was always 'incompetence, incompetent and incompetence'. The response to this wasn't the best but certainly, not as harsh as yours. Kindly note that the position of a Veep is a heart-beat away from that of the President. It requires sobriety, temperament and big heart to stomach even annihilating criticisms.

"If you have to respond, please do so via the commentators and apparatchiks. A master recipient of the sovereign fiduciary trust of the people must remain focus and not stop to throw stones at every 'political animal' that barks," Prof Gyampo said.