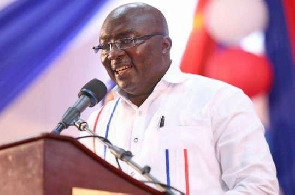 Minority Spokesperson on Agriculture and Cocoa Affairs, Mr Eric Opoku, has blamed the incompetence of Vice President Dr Mahamadu Bawumia for Ghana's economic crisis.
The MP for Asunafo South who was speaking on Dwaboase programme on TV XYZ observed that the Vice President prior to assuming power in 2017 only lied to Ghanaians about his capabilities.

Ghana's economic status has been downgraded by several institutions to a junk status following the inability of the West African country to service its debt.

Currently debt to GDP is almost 100% and the country's managers have had to fall on the International Monetary Fund (IMF) for a $3 billion bailout.

Bawumia had campaigned against the Mahama-led NDC government and maligned his administration for mismanagement of the economy.

But fast forward to 6 years into government, the Bawumia-led Economic Management Team has introduced a debt exchange programme to balance the economy as it defaulted in paying local and foreign creditors.
It is for this reason that Eric Opoku wants Bawumia to resign.

"Bawumia should have been the first person in this government to resign," the former Brong Ahafo Regional Minister told host Prince Minkah.

"President Akufo-Addo described Bawumia as the economic messiah of this country and created the impression that his vice had the magic wand to turn the economy around. Bawumia himself said Ghana had enough funds to turn things around but today the country cannot pay its debt," he explained.

The MP contended that Ghana's debt has ballooned to over 400 billion cedis which he said is the highest debt of the country since independence.

"Today the debt exchange programme is going to bring hardship," he said and rubbished Bawumia's economic prowess.
"Today things are harder than before so what's the usefulness of Bawumia's competency when we are all suffering," he added.

You can also watch this episode of People & Places here: