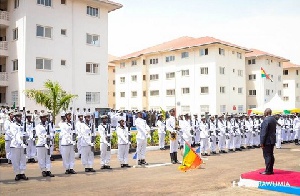 The Nana Akufo-Addo government is determined to continue infrastructure projects began by previous administrations to ensure Ghanaians enjoy the full benefits of such expenditure.
Government will also revive projects began by the Kufuor administration, but were abandoned by the Mills and Mahama governments, especially housing projects, in order to address the country's housing deficit which is in excess of 1.7 million units and is expected to rise to 2 million by 2020, if swift measures are not taken.

The Vice President Dr. Mahamudu Bawumia, made the declaration when he commissioned Phase II of the Security Services Housing Scheme at the Eastern Naval Command, in Tema New Town on Monday March 12, 2018.

The Herald recently wrote about this project and mentioned how the Akufo-Addo government is refusing to commission it, because the Mahama administration was going to be credited.

This was in spite of acute accommodation challenges facing Naval officers of the Eastern Naval Command, in Tema New Town.

Few weeks after The Herald's publication, the government led by the Vice-President, has in the company of Defense Minister, Dominic Nitiwul, rushed to the project site to commission the apartments, paving the way for their allocation to the Navy personnel.
Began in 2014, the fully gated Barracks is made up of 23 blocks comprising a total of 368 apartments.

Out of the 23 blocks, 8 blocks are 3-bedroom flats and 15 blocks are 2-bedrooms flats. The facility also comes with a multi-purpose sports facility and a playing ground for personnel and their families.

This is the first planned naval barracks in Ghana, and will go a long way to address the accommodation challenges of the Ghana Navy, which is the only service within the Ghana Armed Forces which does not have a well-planned Barracks.

This unfortunate situation has compelled most naval personnel to stay in rented civilian accommodation scattered all over Accra and Tema.

A big downside of this, according to Senior Naval Officers, is that it makes it difficult to mobilise personnel at short notice to respond to emergencies, and undermines their operational effectiveness.
The Vice President, called for continuity in the execution of government projects, saying Ghanaians were the ultimate losers of such decisions.

"I recall that this project was began as I said in 2014 under the previous government and it was at a cost of Ghs101 million. When we came into office the amount outstanding for completion of the project was Ghs45 million and thanks to the pressure put on the Minister of Finance by the Minister for Defence, as well as the Minister for Works and Housing, government made payment of about Ghs38 million in December and I think the rest will be done soon.

"So thankfully the project was not abandoned and we have to make sure that this is the way governance continues. As the President has said, when one government starts a project, (the next one should) not abandon it; try and complete it."

The Vice President continued, "As the Minister for Defence noted, there is a military accommodation project probably about 100 metres away from here, the SSNIT projects which were abandoned. They started in 2007 but were abandoned. Similar projects such as Affordable Housing projects – Wa, Tamale, Koforidua, Asokore Mampong – were all abandoned.

"But we are going to re-initiate all these projects and make sure they are completed." Vice President Bawumia assured the Security Services of government's commitment to providing them with decent accommodation in order to ensure their operational efficiency, saying "We are currently engaged in discussions for the construction of about 10,000 houses and court structures for the Ghana Armed Forces, Ghana Police Service, Ghana Prisons Service, Ghana Immigration Service, Ghana National Fire Services and the Judicial Service."