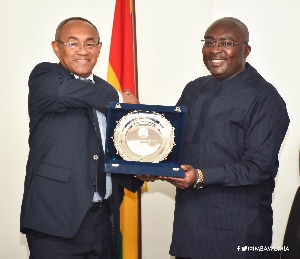 The Vice president of Ghana, Dr. Mahamudu Bawumia has urged administrators to do more than needed for the development football in the country.
Dr. Bawumia pledged the government is ready to provide legal power, capacity or sanction to give an advantage to football administrators for the growing of the sport in the country.

He made these claims when the President of the Confederation Of African Football (CAF), Mr. Ahmad Ahmad paid him a courtesy call at the Flagstaff House in Accra last Friday.

That was part of the official working visit to Ghana by the CAF President. The Veep further assured government's readiness to fully support the development of the game since it is equally important due to the high interest by Ghanaians.
"There's passion for the game, there's interest in the game and that interest amongst our people is also translated into the interest by the government. We want to make sure soccer does well and football is governed properly and so we'll do everything in our capacity for the development of football," he said.

He also stressed government has no interest in the interference of football management but tasked administrators to do more to develop the sport.

"We don't really want to interfere in the management of football, but we want to provide the environment for that management to benefit the country. So we have very high expectations of the administrators of football."