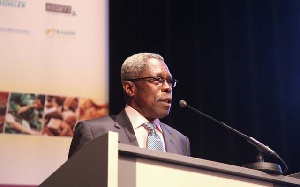 Vice President Dr Mahamudu Bawumia was the Achilles' heel of the National Democratic Congress (NDC) in the lead-up to the 2016 elections, Dr Tony Aidoo, Ghana's former Ambassador to the Netherlands, has said.
He said even though Dr Bawumia had flaws in his analysis of the economy ahead of the polls, the NDC, then in government, failed to put up an effective communication strategy to neutralise the analysis of the former Deputy Governor of the Bank of Ghana.

"What I missed was the inability of the NDC communication team to bring out the facts so as to challenge the comparative analysis that Dr Bawumia was making," Dr Aidoo told TV3 in his first-ever interview after he returned home from his diplomatic assignment.

"Dr Bawumia was the Achilles' heel of the NDC", Dr Aidoo observed, adding: "Not only for the 2016 elections but he started way back in 2012."

Pointing out some of the things he saw as flaws in Dr Bawumia's pre-election comments on the economy, Dr Aidoo said: "He ignored the fact that for the most part of the Kufuor administration, the eight years was virtually carried by donor financial support. All the social interventions that Kufuor implemented were donor supported," he said.
Dr Aidoo said the Kufuor administration, for instance, had a lot of burden taken off his government's shoulders when Ghana's creditors wrote off 66% of the country's debt as a result of the Highly Indebted Poor Countries (HIPC) initiative.

"…At the time our national debt was about 6.8 billion dollars. In effect, our debt-to-GDP ratio certainly dropped sharply so on what grounds can Bawumia compare that an economy that was virtually carried by donor financial support was managed better than an economy that did not have those support?" Dr Aidoo asked.

He, therefore, said it was important for the NDC's communication team to have had people with "historical recall" and "administrative memory" to counter Dr Bawumia's assertion.