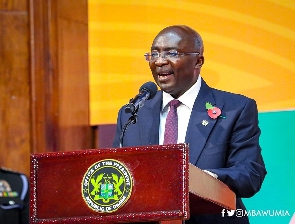 The Vice President of Ghana, Dr. Mahamudu Bawumia, has been projected to lead the New Patriotic Party (NPP).
This was contained in a recent study co-conducted by Outcomes International Ghana and the Centre for Sustainable African Development Initiatives (C-SADI) UK.

According to the survey, the most popular candidate for the New Patriotic Party (NPP) flagbearer position in all the 16 regions of Ghana, is the vice president.

In all, the survey got responses from around 197,000 NPP polling station executives (PSEs) in all the regions.

"The most preferred candidate for the NPP's flagbearer position among PSEs is Dr Mahamudu Bawumia leading in all 16 regions as shown in figure 1 (below). The closest contenders to Dr Bawumia are Alan Kyerematen and Kennedy Agyapong respectively. It is worth noting that some PSEs (12.3%) indicated they have not yet decided on whom to vote for, but that does not significantly change the outcome," the researchers said in their final report.

The study also looked into other socio-demographic factors that are likely to influence the outcome of the NPP's presidential candidate election.

For example, the study looked at how ethnicity/geography and religion affect the chances of the viable candidates, as well as the basis on which delegates assess the suitability of a candidate.
"Data was obtained mainly through computer-assisted personal interviewing (CAPI) technology between 15th November 2022 and 15th December 2022. Based on 95% confidence level and 2% margin of error a sample size of 6000 PSEs was used. However, 5641 PSEs were successfully interviewed (response rate of 94%) from all 96 constituencies. Greater Accra region had the highest number of PSEs interviewed with 1142 PSEs followed by the Ashanti region with 869 PSEs corresponding to 20.2% and 15.4% respectively. More than half of PSE's who participated in the survey were Akan (54% [n=3056 PSEs]), and 46% (n=2585 PSEs) were non-Akan. In terms of religious distribution, 78% of the PSEs were Christian whilst 20.6% were Muslim," the report stated.

The data was gathered through computer-assisted personal interviewing, as stated above.

Read the full study below:





AE/WA