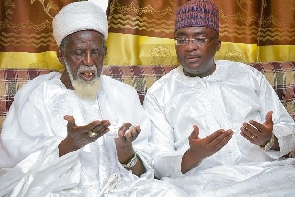 The Office of the National Chief Imam confirmed on March 22 that Ramadan was to start, Thursday, 23 March 2023.
The sighting of the moon in Bawku in the Upper East region was the reason for his declaration according to Islamic traditions.

"By the report we received from Bawku, the source coming from the Bawku chief Imam, also getting the source from one very eminent Muslim scholar, Sheikh Kankanbore; the moon has been sighted at Bawku.

"This information has been well communicated…that information has been well authenticated and we have no reason to doubt it.

"On this grounds, by the Chief Imam's mandate as the supreme leader of Muslims in this country, Muslims will begin fasting tomorrow, 23rd of March 2023," a statement from the office of the National Chief Imam said.

Meanwhile, Vice President Dr Mahamudu Bawumia and his wife Samira who are both Muslims have wished Muslims across the country well, as they embark on another sacred journey of fasting and prayers in the month of Ramadan.
In a Ramadan message, the Vice President prayed Ramadan brings multitude of blessings, peace and tranquility to every family, household and the nation as a whole.



You can also watch this episode of People & Places here: