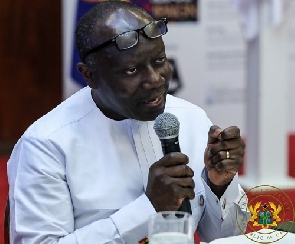 Finance Minister, Ken Ofori-Atta, has charged Christians to be bold and rise above the criticisms against the construction of a National Cathedral in the country, ABC News can report.
The construction of a National Cathedral is being championed by President Akufo-Addo.

Since the President announced his intention to construct the edifice, it has been greeted with sharp criticism by a section of the Ghanaian public.

For the majority of these people, the current economic situation of the country does not make such a project necessary.

But commenting on these criticisms, Ken Ofori-Atta, who does not hide his faith in God, says it is sad Christians are not rising in support of the project.

"The President has committed to building a National Cathedral in a prime place in Ghana to honour God in this land and it is quite disappointing for me [that] when the cathedral was announced, there was huge resistance from certain quarters of the population. It was quite sad because I really did not see us as believers standing strong and tall to defend and promote it," he said
Ken Ofori-Atta further added that Christians "must do better than that".

He is of the belief that the project, when completed, will "open Ghana up as really the spiritual capital of Africa" and establish the country as a "direct link to Israel".

Ken Ofori-Atta is thus charging Christians to be bold and support the construction of the edifice.

"Let us be bold to support it. Let us not be discouraged," he added.

The Finance Minister was speaking at the 56th Annual Session of the Ghana Baptist Convention.
About the National Cathedral

The President cut the sod for the construction of a National Cathedral for the country during the celebration of the country's 60th independence day celebration.

The Cathedral is to house impressive chapels and baptistery, a 5000-seat auditorium, expandable to 15,000 people for national events and celebrations.

It will, among others, have a grand central hall, a music school, and will house Africa's first-ever Bible museum and documentation centre.