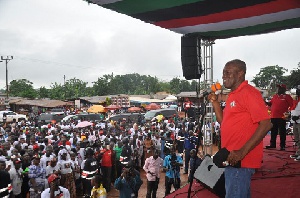 Tue, 15 Nov 2016 Source: Maxwell Okamafo Addo
Vice President Kwesi Amissah-Arthur has encouraged the rank and file of the NDC to restrain themselves in the face of extreme provocation but should be civil and resolute in defending the achievements and the propagation of the party's 2016 campaign manifesto.
He said the NDC led by President John Dramani Mahama will win this year's election in a transparent, free and fair manner.

Addressing mini rallies in Loggu and Belinga in the Wa East constituency of the Upper West Region, Mr. Amissah-Arthur said the NPP has become desperate and it is prepared to do anything to mar the victory of the NDC.

The chiefs of Loggu and Belinga endorsed President Mahama for a second term in view of the numerous projects that have been provided by government.

They on behalf of their people assured the NDC and President Mahama of their votes for more development.

The chiefs also appealed to Ghanaians to vote massively for the President.
The traditional authorities called on government to speed up the construction of road networks in the Wa East constituency to ensure easy movement of persons, goods and services.

Vice President Amissah-Arthur urged the people to defy intimidation by elements of the major opposition and go all out in their numbers to vote massively for President Mahama and the NDC's parliamentary candidate and Minister of Chieftaincy Affairs, Dr. Seidu Daanaa.

The Wa East constituency is one of the communities that has one of the 123 community day senior high schools being built by government.

The facility is almost completed and it comes with accommodation for the headmaster and the masters who will teach in the school.

Vice President Amissah-Arthur said quality education still remains a priority area of government in order to train youth with the requisite knowledge and skill to make them globally competitive.
He appealed to the people of Wa East to vote for Dr. Daanaa because he has braced the odds with his challenge to achieve a lot in life.

Mr. Amissah-Arthur said Dr. Daanaa is brilliant and hard working, therefore, should be voted for so that he continuous share his knowledge in Parliament for the overall good of the country.

At Loggu, an honorary chieftaincy title was conferred on the Vice President and dressed in a special made smock
Source: Maxwell Okamafo Addo