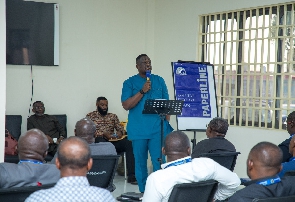 Ahead of the commencement of the Revenue Mobilization exercise dubbed "20-20", Mr Samuel Dubik Mahama, Managing Director of the Electricity Company of Ghana (ECG), has urged his staff to be very firm but polite in collecting locked up revenues.
The exercise, slated to begin on March 20 to April 20, 2023, is using the all-hands-on-deck approach and will see all top officials of ECG physically on the ground, collecting monies from customers who have been billed by the company from September 2022 to February 2023, including State Owned Enterprises and companies on Special Load Tariff (SLT).

Visiting the Tema, Accra East and Accra West, Volta, Ashanti, Western, Central, Projects and Eastern Regional offices, Mr Mahama said, "We have no business sitting behind our desks when we have revenues locked up out there. When you go out, please be extremely polite to our customers, introduce yourselves properly with your ID cards, and insist on payments."

The Managing Director said he was aiming at collecting 100% of the locked up revenues, totalling over GHS5 billion.

"You can imagine what this amount of money will mean for ECG and the economy in these trying times. Let us make this work. Everyone must bring home some money and whiles you are out there, look out for illegal connections, and report accordingly," he added.

Mr. Mahama asked staff not to take cash from customers but rather direct them to use the ECG Power App or dial short code *226# to make payment.

Staff were also told that they can assist customers who want to pay with cheques to generate payment advice numbers from the app, which will be presented together with cheques at the bank.
Also, customers can go to a Momo agent with their meter and account numbers on the same *226#.