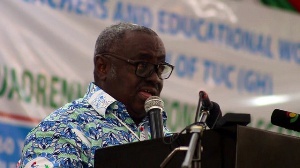 Teachers and Educational Workers Union (TEWU) of the Trades Union Congress (TUC) has accused the government of dragging its feet in the payment of Continuous Professional and Skills Development Allowance (CPSDA) to non-teaching staff of the Ghana Education Service (GES).
According to TEWU, negotiation for this allowance started three years ago with the Fair Wages and Salaries Commission; however the government is yet to approve payment is made to its members.

Speaking to Starr News on the sidelines of the 13th Eastern Regional Quadrennial Delegates Conference of TEWU, General Secretary of TEWU, Mr. Mark Denkyira said the government must be fair to non-teaching staff in the education sector to pay the allowance by November this year to avoid consequences.

"When you come to the non-teaching staff, there appears to be some feet dragging in the approval of allowances to such non-teaching staff. We have battled this issue and one such key allowance is the continuous professional development allowance which has been on the drawing board for over three years since 2020 that this allowance was first paid to the teaching staff the non-teaching staff have not enjoyed their share of it and that is what we are calling on government that we seems to have reached far with the discussions so we expect to see the approval letter given so that by November when our teaching counterparts are being the non-teaching staff will also be paid the allowance so there will be no agitation and there will be no rancor," Mr. Denkyira stated.

He said productivity will be maximized if the government treats TEWU members fairly.
"We believe that if fairness is meted out to the non-teaching staff as well we are able to offer our best of service for the development of education in Ghana," the General Secretary indicated.

Eastern Regional Director of Education Ivy Owusu Asantewaa urged members of TEWU to help curb sexual abuse cases in schools in the region.

The Vice Chancellor of Koforidua Technical University, Prof.David Kofi Essumang,stated TEWU members and stakeholders must take steps to address equity challenges in enrollment of students, particularly girl-child in rural areas.

He also bemoaned inequalities in educational infrastructure in the country.