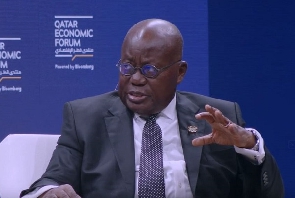 The president of Ghana, Nana Addo Dankwa Akufo-Addo has admonished judges in the country to be wary of undue delays in handling cases as it hampers the progress and integrity of the judicial system.
According to him, judges should prioritize the timing of cases and make sure they expedite them as delays could have dire repercussions on individuals and tarnish the reputation of the judicial system.

Speaking at a swearing-in ceremony for some new judges at the Jubilee House, Accra, on August 29, 2023, President AKufo-Addo entreated the judicial council to be wary of delays to make the country attractive to investors.

"I [Akufo-Addo] thus urge you [judges] to be sensitive to undue delays that project the image of Ghana as a destination where litigation takes too long. This affects the attractiveness of the country as an investment destination," he said.

He further advised the judges not to allow their religion, ethnicity, or political affiliations to influence their decisions to ensure fairness prevails in their rulings.

"Let me use this occasion to repeat that the dispensation of justice requires that application of the laws of the land must occur in the hallowed words of the judicial oath you have just taken without fear or favor, affection or ill will, that is, without recourse to the political, religious or ethnic affiliations of any persons before you," President Akufo-Addo reiterated.
The new High Court judges sworn into office are Justices Dorothy Ayodele Kingsly-Nyinah and Ama Sefanya Ayittey.

Watch a video of the speech below


President Akufo-Addo urges judges to be sensitive to delays in trials#UTVNews pic.twitter.com/lE9ZOJkQBi

— UTV Ghana (@utvghana) August 29, 2023
BS/WA
Ghana's leading digital news platform, GhanaWeb, in conjunction with the Korle-Bu Teaching Hospital, is embarking on an aggressive campaign which is geared towards ensuring that parliament passes comprehensive legislation to guide organ harvesting, organ donation, and organ transplantation in the country.
Watch the launch of the 2023 GhanaWeb Excellence Awards on GhanaWeb TV below:

Click here to start the nomination process for the 2023 GhanaWeb Excellence Awards

Watch Mintah Akandoh passionately call for legislation on organ transplantation on The Lowdown on GhanaWeb TV below: