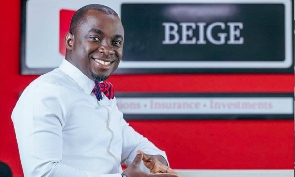 The Receiver of Beige Bank has been accused of making double payments to customers whose funds were allegedly siphoned which has resulted in the founder and the Chief Executive Officer (CEO) of the defunct bank being dragged to court.
Michael Nyinaku, has been accused of allegedly siphoning customers' funds and has been charged with stealing GH¢2.1 billion of depositors' money from the bank.

He has pleaded not guilty to 43 charges including stealing, fraudulent breach of trust, and money laundering, and has been granted bail.

The prosecution through its First Witness, Julius Ayivor, a Chartered Accountant with the KPMG and a team member of the Receiver had told the High Court in Accra that, over 10,000 customers whose funds were siphoned had their funds settled with the government of Ghana bailout package following its takeover.

However, under further cross-examination by lawyers of the accused person led by Lawyer Thaddeus Sory on Friday, March 17, 2023, it came to light that one of the said customers, Bidvert Microfinance had its funds settled on April 25, 2018, before the government takeover on August 1, 2018.

And yet Bidvert's name was included in the list of customers whose funds were said to have been siphoned and paid out from the government of Ghana bailout package.

Responding to questions from Lawyer Sory, the witness in contrast to what he had earlier told the court said "it is true that Bidvert received a credit of GH¢3.1 million on April 25 2018 as shown on exhibit H15 and that credit was paid out of the Fictitious First Africa Savings and Loans (FASL) account which is on exhibit K.

This payment he said though happened before the takeover of the bank on August 1, 2018, "it goes to confirm all we have been discussing in the past week."

The State witness also explained that a study of exhibit H15 "carefully you will note that on March 7, 2018, Bidvert made a Cheque deposit of GH¢3 million leaving the balance in its account to GH¢6 million.

He further stated that on that same day, Bidvert wrote a Cheque of GHc3m in favour of uniBank bringing their balance to GH¢3 million.
He added that "on March 12, 2018, the GH¢3 million that remained on the account of Bidvert was siphoned out of the account to BCAM (Beige Capital Assets Management) on the same day leaving a paltry balance of GH¢20 on Bidvert account.

The witness also said earlier when Bidvert wanted their funds back, the accused person paid out GH¢3.127397.27 to Bidvert on April 25, 2018 just about one-and-half month after the GH¢3 million was siphoned out of their account.

Mr Ayivor also told the court that, the GH¢3 million funds that was allegedly siphoned was not brought back to the bank by BCAM so to meet the need of Bidvert funds, other customers' funds had to be siphoned out of their accounts into the fictitious FASL account which is exhibit K out of which the GH¢3.1 million was paid out to Bidvert in a scheme the witness described as "robbing Peter to pay Paul."

Contradictions

Asked by Mr Sory whether Beige Bank discharged fully its obligations to Bidvert regardless of the scheme he called (robbing Peter to pay Paul), the witness admitted saying "That's so and that is the expectation."

Despite the admission, the witness said "the GH¢3 million siphoned out to BCAM on exhibit K never came back to the bank.

Double payment from bailout

The witness after telling the court that, Bidvert was one of the over 10,000 Beige Bank customers paid out of the government of Ghana bailout package however beat retreat upon further questions.

Counsel said, "it is now clear from exhibit H15 and K that Bidvert Microfinance was paid" and that the witness' theory that, BCAM robbed customers in a (Peter and Paul) scenario is rather to the contrary.
Counsel further intimated that despite Bidvert been paid its money before the government of Ghana bailout package was rolled out, yet its (Bidvert) name appears as not paid and was again paid from the bailout package.

But the witness in a clear departure from his earlier testimony said the GH¢3 million siphoned out of Bidvert account was part of funds that had to be provided to settle affected customers.

"You will note that when I explained the scheme of robbing Peter to pay Paul, there were specific deposit to specific customers siphoned into BCAM account then into the fictitious FASL account out of which the GH¢3.1 million was paid to Bidvert," the witness explained.

He told the court that, those customers that were robbed to be able to pay Bidvert, had to be paid back their funds that were siphoned out of their accounts before adding that the GHc3.1m was a component of the bailout package.

Bidvert already paid

Mr. Sory while putting it to the witness said in terms of robbing Peter (customers) to pay Paul (Bisvert) to the extent that Bidvert was duly paid and having Bidvert again on the list of over 10,000 customers rather explained better the witness' theory of robbing Peter to Pay Paul.

But, the witness said, the funds that were siphoned from other affected customers which were sent to the fictitious FASL account have to be paid back to the affected customers.

He added that if the GHc3m that was siphoned from Bidvert account is confirmed to be paid out, then it is the fact that customers whose funds form part of the GH¢3.1 million paid to Bidvert on April 25 2018 also had to be paid back.

He however said, "there is no issue of double counting in this instance."
Confusion

Counsel asserts that those customers who received the payment that were due to Bidvert had their names together with those customers who received their bailouts included in the list of those still to receive its investment in respect of which it had earlier been paid.

But the Witness said that was not so, adding, however, that, "when you look at the record of payment that were made to the affected customers on exhibit 5, Bidvert name does not appear confirming that payment was not made twice.

Counsel said, regardless of what was eventually found in exhibit 5, the answer he (Witness) had given to the court on his exhibit AB1 that everyone on that list was paid by government of Ghana bailout cannot be true.

But, the Witness said exhibit AB1 is not the list of customers paid out of the bailout package, adding that, "I did not state that exhibit AB1 is the list of the payment made to the affected customers.

He said, "What I stated was that exhibit AB1 is the list of customers whose funds were siphoned out of their account."

This response by the witness was a direct contradiction to portions in his own written statement which had already been tendered in evidence that he had alleged categorically that all those over 10,000 customers were settled using bailout funds from the government.

Justice Afia Serwah Asare-Botwe, a Justice of the Court of Appeal sitting as an additional High Court judge has adjourned the sitting to March 20, 2023 for continuation.

Watch the latest edition of BizTech and Biz Headlines below:






Watch the latest edition of Business Moments below: