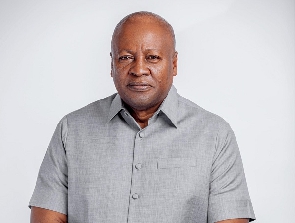 Former President John Dramani Mahama has engaged minority tribal groups whose nationality are being challenged to insist on their rights when they participate in voter's registration or any other registration exercise.
According to Mahama, minority tribal groups in Ghana including the Fulanis and Hausas all contributed their lot to the formation and development of the nation and thus deserve to be called Ghanaians.

Speaking at a gathering in a video shared by TV3 on Sunday, September 17, 2023, the former president, who is also the presidential candidate of the National Democratic Congress (NDC) for the 2024 elections, indicated that it is wrong for officials of the Electoral Commission of Ghana of any registration official to turn people away mere because they identify as members of these minority groups.

"… at that time there was no country called Ghana. The Fulanis brought cattle to sell, the Zambramas were here, the Gaos were here, the Mosis were here - everybody was here long before we knew there would be a country called Ghana.

"If you look at those who fought in the 2nd World War, go to Kumasi there is a memorial there, and read the names of those who went and fought and died. You would see all those different northern tribes, they all went and fought in the 2nd World War and at that time there was no country called Ghana," he said.

The former president said that all persons no matter their ethnicity have the right to be recognised as Ghanaians.
He added that the grandparents of these ethnic groups were in Ghana long before the country was formed.

"As so today, when we have a country called Ghana, all of us make up that country. Ghana is a country united in diversity because it is the various ethnic groupings that make Ghana stronger

"... when it comes to registration and you mention your name and the ask who are you, you say 'I'm a Fulani'. They would say oh, you are not a Ghanaian, we are challenging you. You say 'Oh I'm a Hausa', you are from northern Nigeria. Everybody in this country came from somewhere, we all migrated and came," he said.

Watch a video of Mahama's remarks below:


BAI/OGB

Ghana's leading digital news platform, GhanaWeb, in conjunction with the Korle-Bu Teaching Hospital, is embarking on an aggressive campaign which is geared towards ensuring that parliament passes comprehensive legislation to guide organ harvesting, organ donation, and organ transplantation in the country.

Watch the latest episode of Everyday People on GhanaWeb TV below: