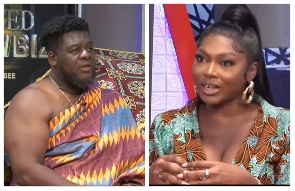 The March 18, 2023, episode of United Showbiz saw a clash over depression between artist manager Lawrence Nana Asiamah popularly known as Bullgod and musician Sefa.
While discussing the health condition of Ghanaian musician Kidi, Sefa narrated how she always stays inside, prays, and maintains her composure whenever she experiences signs of depression.

Bullgod, however, challenged Sefa's claim saying that he does not understand why a believer or human being would permit himself or herself to experience depression.

Bullgod: Luckily for me, my team nobody has said something of that sort (depression), because we're with God. If you don't have God that's where you get depression, let me ask you, have you gotten depression before?

MzGee (host): I don't know how it is.
Bullgod: Thank you, because you're with God

MzGee: No, that's not how it is.

Bullgod: See, let me tell you, my friend called me and complained of being depressed and I said see, you're a fool and he asked me why? So, I told him if you allow your brain to wallow around and pick up on things that you don't even know its usefulness, that's how you get depressed.

Sefa, however, was offended by Bullgod's remark and responded: "Let me look to the camera and tell everybody at home who's going through depression that, you're not stupid, because it is a feeling and the way you feel about being depressed is not the same way someone feels about being depressed because we're both different human beings.
"And I feel that when it comes to what Bull said, I don't really understand what he's saying but I think…everybody is allowed to feel how they want to feel.

"You cannot tell somebody that you're not allowed to feel some type of way because when I go home and close my doors, you're not there with me.

"So if you sit on TV, a whole national TV, UTV and you say that when your friend says something (about depression) and say you're stupid how? There are young people watching, imagine how they're going to feel like they can't talk about these things," she lamented.


"You are not stupid if you feel depressed" - @s3fa_gh #UnitedShowbiz pic.twitter.com/TTGGO0fJuI

— UTV Ghana (@utvghana) March 19, 2023
Watch E-Forum below.



Watch the latest episode of The Lowdown below:


Meanwhile, catch up on the concluding part of Francis Addai-Nimoh's interview on GhanaWeb TV below:





AM/SARA