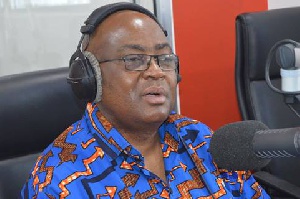 Fri, 9 Dec 2016 Source: GhanaWeb
Editor of the Daily Dispatch newspaper and pollster Ben Ephson is trending on twitter over a prediction he made about the elections.
Ben Ephson predicted a one-touch victory for President Mahama insisting the NDC flagbearer was going to garner 52.4% of the total votes cast.

That however appears not to be the case as provisional results collated so far put the NPP flagbearer,Nana Akufo-Addo, in a solid lead with 54.63% of votes in more than 250 constituencies.

Twitter has been awash with attacks and criticisms while scores more mock the findings of pollster Ben Ephson.
I want to know the algebra Ben Ephson used for this!!!!! Aboaa taaa pic.twitter.com/FveWewruxq

— Mutombo Da Poet (@MutomboDaPoet) December 9, 2016
Ben Ephson paa did he drink sobolo before conducting his so called polls? Cuz I can't really think far.

— Nana Osei® ???????? (@nanaoseiike) November 29, 2016
Sad people believed in Ben Ephson than the Political science department of UG, knowing very well "research" is an academic discipline.

— fanti Pepkid (@FantiKid) December 8, 2016
Trying to work out how Ben Ephson became a pollster pic.twitter.com/bwykkXuT7L

— F. A. TAYLOR® (@NewAkyin) December 9, 2016
Ben Ephson say people wan beat am ????..

What do you expect after giving them all these False hopes?????????????????????????

— #VoteForNanaAddo (@Kwaku_Sasty) December 9, 2016
There was some sports related humour in relation to Ephson's 'prediction'
I heard Ben Ephson predicted we Arsenal will win the EPL dis season ...am beginning to think otherwise

— Nana Kwadwo Amponsah (@AmponsahDixon) December 9, 2016
Ben Ephson did a correct survey but swapped npp and ndc because of money???????? https://t.co/KLW1WAIcvw

— N.Y. (@nana_oduro47) December 9, 2016
Ben ephson needs a part time job #GhanaDecides

— iTz_Blakk (@jed4blak) December 9, 2016
#Ghana2016 @indigotrust: Even If Ben Ephson Prefers, He Should Predict 90% For Mahama - Sir John https://t.co/P1xNYOr3HN

— African Elections (@Africanelection) November 29, 2016
NPP goes nuclear on Ben Ephson; tells him to focus on nutrition instead of polls https://t.co/O8SgqcIIOI via @yencomgh

— GTOP Radio (@GTOPRadio) November 29, 2016
Pollster Ben Ephson will serve the research community and its members much better if he publishes his methodology... https://t.co/nBKZQPkAcQ

— #ElectionStrongRoom (@Class913fm) November 29, 2016
The NDC however believes Ephson's predictions are credible
'Celebrated' Ben Ephson's polls 'credible' - NDC https://t.co/pnXp8TsydT#GhanaElects #DecPolls

— Election News 2016 (@GhElectionNews) November 29, 2016
The people who matter take Ben Ephson serious.. they may say whatever in public but give it serious thought behind the scenes...

— B.Otoo (@Bridget_Otoo) November 29, 2016
Ben Ephson is just fraud

— K E N Y A (@Olo_Koshio) November 29, 2016
So the only pollster we can boast of, as a country's Ben Ephson?

Can't we have a second opinion from someone... https://t.co/hx0C3IeUhB

— shikolinks Ent. (@biggyblackz) November 29, 2016
Who's Ben Ephson? Is it an octopus?

— #MadeInGhana KÉNTÉ (@JazzObenewaa1) November 29, 2016
Ben Ephson's polls come from his 'big belly' – A Plus https://t.co/6Y3cm9bhsg pic.twitter.com/mFvgjUcK1B

— Ghanamma.com (@ghanamma) November 29, 2016
Source: GhanaWeb