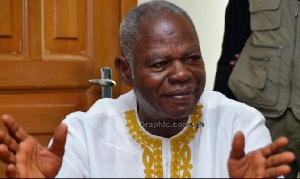 Mon, 11 Sep 2017 Source: Daily Guide
Two leading members of the People's National Convention (PNC) have locked horns over the ownership of a pick-up used by the party's flagbearer, Dr Edward Mahama during the 2016 elections campaigns.
Sources at the corridors of PNC have indicated that the National Chairman of the party, Bernard Mornah, has requested the return of a Toyota Hilux pick-up registered GR-8724-16 he claims to have presented to Dr Maham during the electioneering campaign.

The source learnt that the defeated flagbearer was not pleased with his National Chairman's request for the vehicle since it was presented to him in the name of the party and not as an individual.

The disagreement cropped up at the party's standing committee meeting on Saturday between the two leaders of the party and the protracted matter has since been referred to the PNC Council of Elders for onward advice.

According to the source, the truth of the matter and the right ownership of the said vehicle would be determined by the committee that would be put in place by the party elders to investigate it.

There was no reason behind Mr Mornah's demand for the vehicle.
"I did not give the vehicle to Dr Mahama through any of the party's committee, but presented it personally to him," he was quoted as saying.

But some party kingpins have tied it to the flagbearer's acceptance of appointment from President Akufo-Addo as Ambassador at large without consulting the party.

Dr Mahama was appointed an ambassador at large by President Akufo Addo.

Since Dr Mahama's appointment, the PNC has not seen peace, with Mornah's faction believed to align with the NDC not happy that the leaders took the appointment without consultation.
Source: Daily Guide