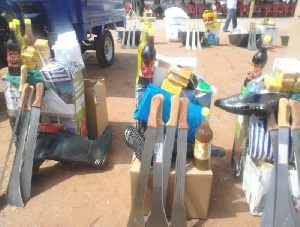 Farmers in the Eastern Region are once gain being awarded with boxes of popular alcoholic beverage, Joy Daddy Bitters, as the nation celebrates National Farmers Day today.
Last year , organizers of the event in the Eastern Region came under fire for handing over the 'hard' beverage to best farmers in the Region . At the time, organisers explained that Joy Industries, producers of Joy bitters was the main sponsor of the event hence the decision to give farmers some of the product.

Other prizes include, cutlasses , other farming machines, refrigerators , televison etc
The regional event is taking place at Odumase Krobo in the Manya Krobo District while the national event is being held at Kintampo.