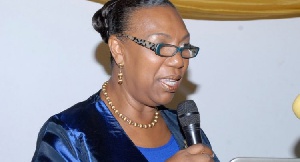 Former Attorney General and Minister of Justice, Betty Mould Iddrisu, has indicated that she is saddened by some people's assertion that she is corrupt, after rendering a selfless service to the state.
"You are acting as a lawyer for all the ministries and departments. It's a delicate balancing act [and] in my whole career it was the most difficult job," she said, adding she gave off her best.

Describing the AG's Department as a very difficult place, she said every decision she took while serving under the erstwhile National Democratic Congress (NDC) regime, was in the national interest.

Speaking on Joy FM's 'Personality Profile' programme last Thursday, the former Attoney General said she had never been corrupt in her public life and would not be.

No comment on Amidu's appointment When she was invited to comment on the appointment of his successor Attorney General, Martin Amidu, as the Special Prosecutor by President Akufo-Addo, she declined.

"I am not going to say a word about that," were the only words Mrs Mould Iddrisu muttered about Mr Amidu's appointment.
Mrs. Mould Iddrisu's authorization for the payment of $51.2 million to NDC financier, Alfred Agbesi Woyome, in 2011 has been a subject of court action for many years.

Sources say she may likely face prosecution for authorizing the dubious payment to Woyome in the name of judgement debt – which was the order of the day when she was the AG.

She authorized other reportedly dodgy payments under the cloak of judgement debts to Waterville BV and others.

Betty was said to have mounted pressure on former Finance Minister Dr Kwabena Duffuor to pay the money to Woyome, in spite of his (Duffuor's) resistance to the directive.

She eventually got Woyome walking away with the GH¢51.2 million without doing any job; and the same NDC government that paid the money went to the court, claiming that he (Woyome) misled it.
The businessman had claimed he had a contract with the Government of Ghana, which he said was illegally terminated.

But in a unanimous decision in July 2014, Ghana's apex court held that the money was fraudulently paid to him and ordered the government to retrieve the whole sum.

The former AG dominated headlines in major newspapers in the country, with political opponents describing her as a corrupt person.

Betty finally lost her position in government and quickly ran to hold party position as a vice chairperson where she is angling to be the substantive national chairman, as part of John Mahama's team.