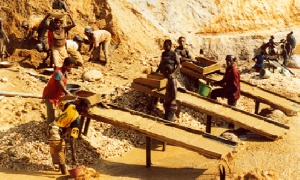 As steps are taken to flush out people who engage in the galamsey business, the Public Relations Officer for Minerals Commission, Mr. Isaac Abraham has indicated that never would the authority legalize the operations of illegal miners.
Mr. Isaac Abraham however stated that the Minerals Commissions would rather regulate operations of small scale miners because their activities protect Ghana's lands and rivers.

He explained on ATV's Anopa Bosuo show that "settlement, mangroves and rivers are prohibited areas for mining, over 80% of galamsey as recorded mine at these prohibited areas in Ghana. The Minerals Commission do not licence any mining company to mine in these prohibited areas so anyone caught in these areas must be taken on."
He added that "minerals commission will not agree in the legalisation of galamsey in Ghana because most of these miners work in the prohibited areas of mining. There is a bigger arm somewhere which is hindering us from arresting people who engage in illegal mining".

He advised that the time has come for the commission to continuously organise seminars in all mining areas to educate them on reasons they can't mine in prohibited areas.