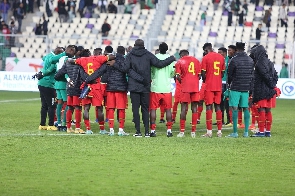 Social media users had a go at the Ghana Football Association (GFA) following the exit of the Black Galaxies from the ongoing Championship of African Nations (CHAN) tournament in Algeria.
The Annor Walker-led team were kicked out of the tournament after a quarter-final defeat to Niger on January 28, 2023.

Niger put two past the blunt Black Galaxies as the West African side booked their place in the last four.

An own goal by Konadu Yiadom and a fabulous goal by Hainikoye secured Niger the win over the two-time finalist.

On Twitter, people are angry at the continued deterioration of the fortunes of Ghana football at the continental level.

Some recalled the last time Ghana lost a CAF match which was against Comoros at the 2021 AFCON in Cameroon whiles for others, the whole football set up of Ghana, they held, needed an overhaul.

Others saw the fun side of the occurence making light of the defeat. "Black Galaxies MKHKYD" is one of such tweets.
MKHKYD is in reference to a recent trend where the abbreviation is employed to question why people engage and or participate in an action that doesn't end well.

MKHKYD is the abbreviation for Mo Koor Hor Kor Yeer Dien (Twi equivalent of what did you go there to do?)

See some reactions below:


Ghana premier league = BOMB

Black stars = BOMB

Black Galaxies = BOMB

Black Queens = BOMB

KURT OKRAKU you've failed terribly pic.twitter.com/Lua5RkdIud

— AYEDUASE PULISIC (@quame_age) January 28, 2023
Your pitches are extremely poor, you don't pay players well, there's no proper planning to address these issues and you want to win matches! Kurt Okraku and the Gf must bow down their heads in shame! Black Galaxies day of shame! pic.twitter.com/xQGuekTgH2

— Mens D MC ???????? (@Mc_Mens1) January 28, 2023
At this rate I can tweet; Black Galaxies MKHKYD.

— Thierry Nyann ???????? (@nyannthierry) January 28, 2023
First it was Comoros against the Black Stars. Now it's Niger against Black Galaxies. This be the Danlad you people say he dey catch pass Joojo no? Tweaaa!

— Ölele | Deep Throat Sauce????????‍???????????? (@OleleSalvador) January 28, 2023
The Black Galaxies shaa pass, tweaa.

We were going to face Algeria with this? ????????????

— Elvis ???????? (@Kayjnr10) January 28, 2023
I wish the Black Galaxies well. I hope they come back but I'm not watching again.

— Saddick Adams (@SaddickAdams) January 28, 2023
How did the Black Galaxies reach the knockout stage??

— Essel (@thatEsselguy) January 28, 2023
Sincerely, I hate Ghanaian leaders! From Politicians, Religious Leaders, Sport and Entertainment just name them and Oow their gullible followers ????‍♂️ ! It's like everyone of them fool! Nobody cares! Just look at the Black Galaxies play,very abysmal! Nothing is working ????

— Mens D MC ???????? (@Mc_Mens1) January 28, 2023
The Black Galaxies look way below the required level for the tournament. Herh!!!

— Nathan Quao (@nathan_quao) January 19, 2023
GhanaWeb Match Report:

Augustine Agyapong almost gave Niger the lead through a misplaced backpass but Danlad Ibrahim reacted quickly to save the ball for a corner.

Niger eventually put themselves ahead after Konadu Yiadom carelessly turn in Imrana's header inside the 11th minute.

The Black Galaxies did not look sharp up front and, therefore, made no significant incursion for an equaliser as the opening half ended 1-0.

Niger again had a strong start to the second period and as a result, extended their lead through Soumana Hainikoye.

Hainikoye scored a goal of the tournament contender after he beautifully bent the ball to the far post from outside the box, giving Danlad Ibrahim no option to make a save.
Similar to the first half, Ghana was lackadaisical upfront, failing to have a shot on target until the inside stoppage time when substitute Augustine Boakye's goal-bound shot was blocked off the line.

Niger have advanced and will face the host nation Algeria on Tuesday, January 31, 2023.