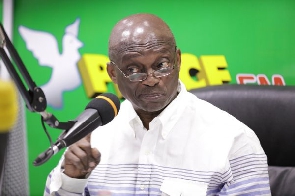 Abdul Malik Kweku Baako, the Editor-in-Chief of the New Crusading Guide has lambasted fast-rising Ghanaian singer Black Sherif over a social media post he made in relation to the ongoing #OccupyJulorbiHouse demonstration.
Black Sherif, reacting to the arrests of some protestors of the #OccupyJulorbiHouse on Thursday, September 21st, the singer expressed in a tweet, his shock at why the police would arrest Ghanaians and prevent protesters from demanding accountability from their elected leaders.

In the same post, he mentioned how he was taken aback and had to leave the recent United Nations General Assembly in New York after hearing President Akufo-Addo speak.

He suggested that he was surprised by the amount of money the President asked to be returned to the African continent, as reparations to African nations for the slave trade, while the government fails to live up to expectations.

"Left the UN conference in New York City right after the president of Ghana's presentation. I've never heard a figure like what he asked for from the UN. So if they carry all these money give dem, where them dey take pass? Hand on my heart I dey tell you there's no evidence for all the money these people dey borrow in our name," Black Sherif wrote.

The comments of the singer resonated with many netizens who praised him for calling out the authorities, however, his comment did not sit well with the veteran journalist.
Responding to Black Sherif's comment, Kwaku Baako simply described the singer's comment and the reactions from citizens as ignorance glorified.

Here is a photo of Black Sherif's post and Kwaku Baako's response




EAN/KPE