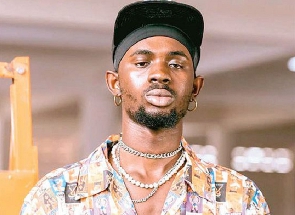 Ghanaian musician, Black Sherif, has responded to Prophet Nigel Gaisie's doom prophecy about him.
Prophet Nigel Gaisie had earlier shared on social media about seeing an inauspicious vision of one Sheriff Black and urged the family to pray for him.

"Let the family of Sheriff Black…pray for him and talk to him deeply, I didn't like what I saw about him some few minutes ago…life is priceless. I saw the mother crying uncontrollably (if nothing is done about this, Ghana will not hear good news before December)," the posts read.

He was then asked about the prophecy in an interview on UTV's United Showbiz, and he insisted that people misconstrued him.

Prophet Gaisie insisted the name he saw in his vision was "Sheriff Black" and not "Black Sherif".

After a long silence, Black Sherif has addressed the issue during an interaction with fans on Instagram Live.

Speaking in Pidgin English, Blacko said: "The pastor says ino be Black Sherif ein talk. Ein say ibe Sherif Black. Make una no call me Sherif Black oo. God is alive. God no die. If God die, it means all of us die ooo. Man go fi plan, but you see God, if ino plan saf wey I pull up, everywhere go shut down. Man go scheme, he will scheme and scheme before something happens but God doesn't plan. God is alive, no dey worry too much you understand?
Halfway through the interaction, one of his fans asked him to exercise caution in order for the prophecy not to manifest. In response, Blacko said: "Don't worry, I am being careful. I am being careful bro. God is alive. If the time reach for us to go to our creator, ebe God wey go kpeme we. If man blast wonna head saff ibi God wey go make am blast. Only God can kill man. Only God can kill me. I am simmering down."

Watch the post below:



Click here to start the nomination process for the 2023 GhanaWeb Excellence Awards

Ghana's leading digital news platform, GhanaWeb, in conjunction with the Korle-Bu Teaching Hospital, is embarking on an aggressive campaign which is geared towards ensuring that parliament passes comprehensive legislation to guide organ harvesting, organ donation, and organ transplantation in the country.

EB/BB