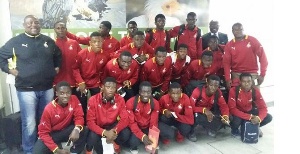 The Black Starlets will play Niger in Accra this afternoon in the first of an international friendly double header.
The first match will come off at the Accra Sports Stadium at 3:00 p.m.

The second encounter with the same opponent will take place at he same venue three days later on Thursday, 20 April.
The match is part of the Starlets' preparations for next month's Africa Under 17 Championship in Gabon.

Last month, the Starlets drew 2-2 with Tanzania in Dar es Salam.