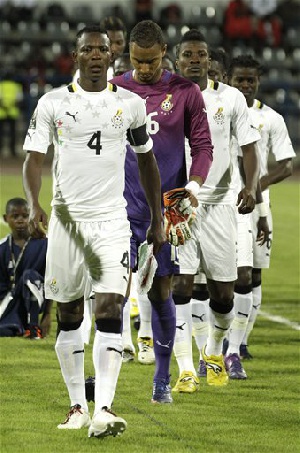 Thu, 6 Sep 2012 Source: GFA
Ahead of Saturday's 2013 Africa Cup of Nations qualifying, the Black Stars has received a cash boost from beverage sponsor, Guinness Ghana.
The beverage sponsor on Thursday presented $500,000, representing a second instalment of $1.4 million for the three-year deal.

"Like Guinness, our flagship brand with 250 years of superior heritage, the achievement of the Black Stars, particularly in recent years has been outstanding.

"We will continue to support the Black Stars to victory," a statement from the beverage sponsor read.

With a pact going back over a decade since 1998, President of the Ghana Football Association, Kwesi Nyantakyi welcomed the sponsorship and said he believes the national team will be motivated to give off their best.
"We have had a good relationship with Guinness and hope we will continue to be worthy corporate partners.

"It is our hope that our brand will be useful in giving our sponsor the desired mileage," Kwesi Nyantakyi said.

Players of the Black Stars after the presentation joined the sponsor's for a photo shoot.
Source: GFA