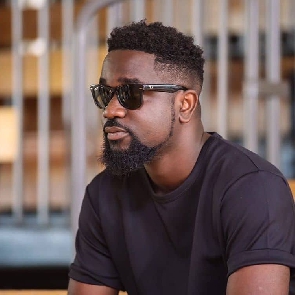 Ghanian Dancehall artiste Ras Kuuku has asked Samini to blame Sarkodie's manager, Angel Town over the rapper's inability to reply to his messages.
Samini in a tweet last week Monday while responding to a fan said he was never going to work with Sarkodie henceforth.

This was because Sarkodie refused to reply to his messages after their earlier chats about a feature. After sending him the songs, he revealed that Sarkodie stopped replying to his messages. Samini said he felt disrespected.

Sarkodie however responded to the comment on Hitz FM interview on Tuesday saying Samini's utterances must have come from a "certain place" for which he would need more details.

Reacting to the issue, Ras Kuuku stated that Sarkodie's manager Angel Town is the one who prevented people from getting close to the rapper.
According to the 'Woo' singer, he also suffered the same fate even though he had discussed featuring the 'Adonai' rapper on his EP.

"I'll say it's Angel for me. Angel is keeping people from getting to Sarkodie. Angel has blocked songs that I have sent to them myself. He said, "He doesn't tell Sarkodie what to do, but he stops the songs from getting to Sarkodie."

He added that Angel Town ought to bear the entirety of the blame for the assaults on Sarkodie.