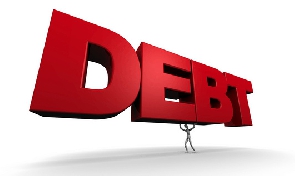 An economist with GCB Capital, Courage Boti says Ghana's ballooning debt stock is as a result of cedi depreciation against major currencies.
Ghana's current total public debt stock has shot up to GH¢575.7 billion at the end of November 2022 according to the new data released by the Bank of Ghana (BoG) on Monday January 30, 2023.

Ghana's debt to Gross Domestic Product (GDP) ratio stands at 93.5% from 75.9% in September 2022, according to the latest debt figure by the Central Bank.

Also, the country's debt stock increased by GH¢108.3 billion between September and November 2021.

Commenting on the figures on Starr Today with Joshua Nana Kwame, the economist indicated that the depreciation effect on the cedi can largely be blamed for the surging debt. 
"If you look at the dynamics the reality is that since June we haven't borrowed as a nation. So the surge you are seeing is actually the Exim loan of $750 million and then exchange rate effect or depreciating effect. The external debt, domestic debts even if the external was slightly higher the difference wasn't much. It was more than 51 percent to about 49 percent between external and domestic.

"Now we have seen a wide jump in the external debt stock not because we have borrowed that much of a difference. But we have seen a depreciating effect and though these are figures in dollars in your report you must do them in cedi. So the depreciating effect means that if you owe 10 billion you are paying more than five times that now. In terms of the cedi value because of the depreciation," Mr. Boti explained.

He added that the debt-to-GDP ratio will definitely cross the 100% mark.

"As the way the IMF is looking at it, we are looking at debts of SOEs, public guarantee debts such as the Sino-hydro, ESLA, COCOBOD and many others will all be added now. These are total government obligations and if you incorporate all of that we are above 110 percent to GDP."