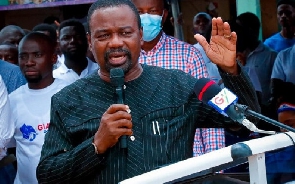 Dean of the Ghana Armed Forces Command and Staff College, Professor Vladimir Antwi-Danso has accused politicians of igniting the Bawku conflict despite severe repercussions for peace and order.
Professor Antwi-Danso claims that due to the political character of the problem, the war has been ongoing for more than 100 years with decreasing chances of achieving a lasting resolution.

He pointed out that the matter remains difficult to resolve because the two feuding factions are politically aligned, which makes it very challenging for the security authorities to restore calm in the region.

According to him, the conflict now poses a severe security threat to the nation since one of the fighting factions could call on terrorists to aid them in their cause, which situation could result in a catastrophe for national security.

"It is because of politics that's why we cannot fight the Bawku conflict. It is just politics…the Bawku conflict has been in existence for over 100 years old, so if every government was to implement peace resolution measures since then, we could have resolved the matter.

"But as times go on, the conflict becomes severe day in and day out. Whether you like it or not, the Kusasis are NDC and the Mamprusis are also NPP. Why should we experience this? This is the political angle, when there's a crime there's a crime.
"I'm most worried about the security threat that this conflict is posing to the country because if we don't take care, a group can invite terrorists to support them in the fight and that will be a national disaster," he said.

In an interview with Accra-based Peace FM, the academician made a suggestion that it is now time for the media and all Ghanaians to use a name-and-shame approach to expose the perpetrators of the dispute and aid in reestablishing peace in the area and the entire country.

Background:

It may be recalled that personnel of the Ghana Armed Forces who were deployed to Bawku to maintain law and order were accused by some residents of allegedly killing at least 10 unarmed civilians from Kusasi in their homes and communities.

Meanwhile, according to a publication by the BBC published on February 2, 2023, Mahama Ayariga was reported to have accused the military of being behind the deaths and called for an immediate investigation.
Mahama Ayariga went a step further to petition the Commission on Human Rights and Administrative Justice (CHRAJ) to investigate the killings of 10 citizens and also demanded GH¢500,000 compensation for each deceased person.

On the other hand, the Ghana Armed Forces in a press statement signed by the Director of Public Relations, Naval Captain Michael Addo Larbie, described the allegations as "false" and "untrue."

You can also watch this edition of People & Places on GhanaWeb TV:



AM/SARA