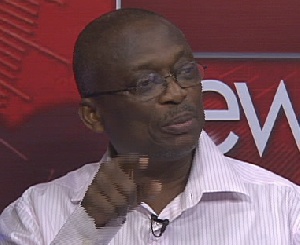 A ban on social media in Ghana during the November polls as hinted at by police Chief John Kudalor will cause the Editor-in-Chief of the New Crusading Guide newspaper, Abdul Maliki Kwaku Baako, hitting the streets in protest despite having retired from such demonstrations for many years.
The senior journalist said he will join like-minded people such as Prof Audrey Gadzekpo to march against the Inspector General of Police should he dare carry through his intention.

The proposition of the IGP has been met with heavy criticism from individuals, civil society groups and political parties.

Prof Gadzekpo of the School of Communication Studies at the University of Ghana warned in an interview with Class News that the move "is too much of a knee-jerk reaction to social media".

"What they will also now begin to encourage is the culture of going underground to communicate. It is better for them to allow citizens to communicate the way they want to communicate. Social media is here to stay just as how radio, television or any other platforms of communication exist," the academic added.
Mr Baako, who is in good company with Prof Gadzekpo told Samson Lardy Anyenini on Multi TV's news analysis programme Newsfile on Saturday, May 28 that he was prepared to join any mass protest on the streets against the decision if implemented.

Mr Baako said "I'm not too sure in terms of the exactitude and precision of what exactly the IGP said or was saying or meant to say... but in terms of the principle, I am on retirement relative to demonstrations, but if ever that kind of policy is put in place, then I will be the first person to hit the call on Madam Gadzekpo and be on the streets."

He added: "I believe the society, as a civilised law governing society, we should be striving for responsible speech or responsible use of media outlets, whether traditional media or social media. That is what we should be striving for, but if it comes to the extremes, choosing between the culture of silence and ugly noises, I will prefer the latter to the former."