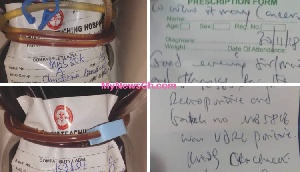 A Ghanaian Addo Kwabla-Evans has revealed a worrisome situation where blood he bought from the Komfo Anokye Teaching Hospital Blood bank was discovered to be HIV positive and with Syphilis virus, MyNewsGh.com has learnt.
The blood was bought from the hospital's blood bank and tested at a private facility in Kumasi, Kean Health Center. It later emerged that the blood tested positive for HIV and Syphilis and could have been transfused on the young man's mother who needed blood.

MyNewsGh.com has obtained all the records showing the nature of the problem. All our attempts to reach the management of the Komfo Anokye Teaching Hospital proved futile.

Again the National Blood Transfusion Service failed to return numerous calls on the subject matter.

The National Blood Service, Ghana is an agency under the Ghana Ministry of Health. The mandate of the National Blood Service, Ghana is to ensure an effective and coordinated national approach to the provision of safe, adequate and efficacious, blood and blood products, making it timely, accessible and affordable to all patients requiring blood transfusion therapy in both public and private health care institutions in the country.

In Ghana, blood donation is a simple, four-step process: registration, medical history and mini-physical, donation and refreshments.
The process is such that it is planned to ensure the best blood is received at the blood bank.

It is a safe process, and a sterile needle is used only once for each donor and then discarded.

The actual blood donation typically takes less than 10-12 minutes. The entire process, from the time you arrive to the time you leave, takes about an hour and 15 minutes.

The average adult has about 10 pints of blood in his body. Roughly one pint is given during a donation.