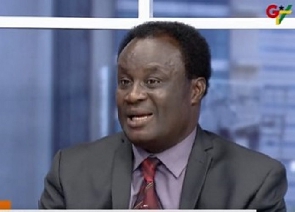 Historian and private legal practitioner, Anokye Frimpong is surprised the Bank of Ghana Governor, Dr Ernest Addison has not been hauled to the court for superintending over huge losses.
This comes after the Central Bank reported a loss amounting to GH¢60.81 billion for the fiscal year 2022, thereby marking a considerable turn from the GH¢1.23 billion profit recorded the year prior in 2021.

The bank's financial statement which indicates that its liabilities surpassed its assets by GH¢54.52 billion as of December 31, 2022, has sparked a public outburst over the past weeks, prompting opposition MPs in Parliament to call for Addison's resignation.

The Minority side has also called for all Deputy Governors of the Bank to resign as a sign of failure and also causing financial loss to the state. The MPs, led by Minority Leader and a former Deputy Minister for Finance, Dr Cassiel Ato Forson, are preparing to embark on a protest to the Central Bank with a petition to ask the Governor to put his job down.

Reacting to a legal tussle resulting from an injunction that was secured by the Ghana Police Service seeking to restrain the Minority MPs from marching on some routes, Anokye Frimpong expressed disappointment at the turn of events.
He said the losses incurred by the Bank of Ghana were unprecedented and must not be swept under the carpet, especially as the country is struggling to balance its economy which was partly battered by the deadly COVID-19 and over-borrowing from the capital market under President Akufo-Addo.

Speaking to Prince Minkah on Dwaboase on TV XYZ, Frimpong argued that the pending protest is legitimate and must not be seen as a disturbance.