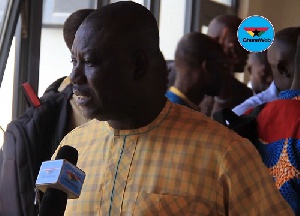 Member of Parliament for Bolgatanga Central constituency in the Upper East Region, Isaac Adongo says the Governor of the Bank of Ghana, Dr. Ernest Addison must resign.
To him, Dr Addison supervised the recent collapse of indigenous banks in the country.

Speaking on Okay FM's 'Ade Akye Abia' programme, he accused the Governor of the Central Bank of aiding some Directors of the defunct banks to misappropriate tax payers money.

The Bank of Ghana last week merged five banks into the Consolidated Bank of Ghana Limited.

The affected financial institutions are; Beige, Sovereign, Construction, UniBank and Royal Banks.

It follows the insolvency of the five banks after investigations by Bank of Ghana (BoG).
"Government has also issued a bond totalling GHc5.6 billion to cater for bad assets of the five banks," Dr Addison said.

Explaining, the Governor said Unibank and Royal Banks were under capitalised and that those banks were beyond rehabilitation. On Royal Bank, he said non performing loans were high, whiles Sovereign Bank obtained its license by false pretences through the use of suspicious and non-existent capital.

According to an investigative report, the management of Capital Bank, with the approval of the Board Chair, diverted some of the Bank of Ghana (BoG) GHc 610 million liquidity support for other uses.

Some of that money was presented as capital to set up another collapsed bank, Sovereign Bank.

Among the flagged transactions were GHc 27.5 million used for business promotion and handled by a board member; transfers to IFS amounting to GHc 23.9 million, transfers to Nordea Capital amounting to GHc 65 million, and transfers to Alltime Capital amounting to GHc 130 million.
The GCB in 2017, took over the two banks under a purchase agreement approved by the Bank of Ghana.

GCB Bank has since absorbed about four hundred workers

But, Hon. Adongo believes Mr. Ernest Addison has shown gross incompetence, thus must resign.

"Collapsing indigenous banks does not make sense. It is just a lazy approach to put banks on their toes. What were they doing when these banks started to experience financial distress?....They have oversight responsibility of monitoring and supervising these banks," he said.

However General Secretary of the ruling New Patriotic Party (NPP), John Boadu says Mr. Addison should be patted on the back for sanitizing the banking industry.
Speaking on the same platform, he explained that though the BoG was not effective in dispensing their duties, Mr. Addison cannot be blamed.

"....it was a painful but necessary decision for the government to take since monies of customers of these banks needed to be protected," he added