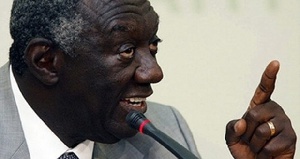 Tue, 9 Aug 2016 Source: Daily Statesman
Former President John Agyekum Kufuor has observed, with regrets, that Ghana has been currently plunged into the kind of crisis that requires strong, visionary leaders with deeper understanding of modern global trends to turn the country's deteriorating economic fortunes around.
According to President Kufuor, in spite of the fact that the country enjoyed a period of relative economic stability in the not-too-distant past, which made it an attractive destination for investors, the poor management of the economy, under the Mahama-led National Democratic Congress government, has resulted in the current state of hopelessness.

The lack of confidence in the economy was at full play last week when the Government was compelled to scrap Ghana's 4th Eurobond sale after investors had rejected the bond by demanding astronomical rates amidst concerns over the poor health of the economy.

In May, this year, NPP Vice Presidential Candidate, Mahamudu Bawumia, warned the government against going for another Eurobond, citing the high rates it could come at and the current bad state of the economy.

"With the debt to GDP ratio at 73%, i.e. beyond the threshold of debt sustainability, what is amazing is that the government wants to issue another sovereign bond of some US$1billion this year to add more to the country's debt burden. My humble advice to the government is that 'please don't,' Dr Bawumia cautioned.

The investors who rejected the nation's bond also feared the Mahama government would once again engage in reckless overspending, as it did in the run-up to the 2012 elections.

While issuing a similar bond last year, Ghana needed the World Bank to underwrite part of it before it was secured at a huge interest rate. But not long, under the previous Kufuor-led New Patriotic Party government, investors were queuing up to oversubscribe bonds that were issued.
Former President Kufuor laments that having worked so hard to achieve that relative economic stability for the country in the not-too-distant past, the economy has now taken a nosedive.

"Our country is in crisis now. We seem to be losing our way. We started off with so much promise but within a short time, we started faltering economically," he lamented while speaking at Prempeh Colleges' Pearson Osae Lectures in Accra.

Former President Kufuor blamed the situation on a lack of effective leadership, stressing: "When we talk leadership, we need leadership that understands the world. We don't want saints to be our leaders; everything should be on balance."

He also stressed the need for a tougher approach in dealing with officials of government who have fallen foul of the law.

"We are also governed by a constitution. We must try to keep within the constitution as much as possible. If we should deviate, we shouldn't be sentimental at all; we should try to enforce the law; nobody is above the law," he stated.
Source: Daily Statesman