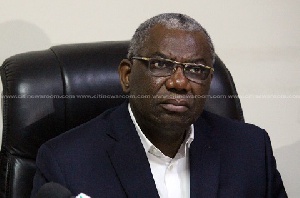 Former Energy Minister Boakye Agyarko has raised issues with the manner in which some persons are quick to break news regarding death on social media and other platforms.
His comments come on the back of the death of late Ayawaso West Wuogon MP, Emmanuel Kyerematen Agyarko, who happens to be his younger brother.

News about the death of the late Member of Parliament broke on social media and some news portals on Wednesday, November 22, 2018.

This Boakye Agyarko seems not to be very pleased with as he has indicated that he would have preferred that the family broke the news of his late brother's demise as tradition demands.

He raised this concern on Thursday, November 22, when a delegation from Parliament visited the bereaved family in Accra.

According to him, he would have wished to properly break the news to Parliament, and the entire Ghanaian public, but news broke on social media and other news platforms ahead of that.
"Culturally and traditionally, I must go to family to announce this sad sudden death before the public will get the information, but technology would have it another way. So even before I could digest and my mind crosses about what was going on, it was already out in the public.

"I think some people glory in being the first to tell such morbid news, but be that it may, what you heard is true."



Addressing the delegation from Parliament, Mr. Agyarko narrated incidents which led to the demise of his late brother, stating that the Ayawaso West Wuogon MP took ill some four weeks ago and got treatment from the Ridge Hospital in Accra, and was later taken to the US, where he passed.

He also informed the delegation that the family is yet to make necessary arrangements for the burial and would keep Parliament informed on developments.
"Given the kind of person he is, we are not going to rush it, we are taking our time to give him the befitting burial he deserves."



Mr. Agyarko also noted that his brother's contribution in Parliament towards the development of Ghana has been tremendous, and that his death would create a vacuum.

Kyerematen Agyarko has been in Parliament since 2009.