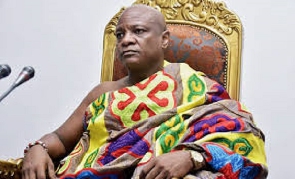 The Board Chairman of Hearts of Oak, Togbe Afede XIV has been appointed as a director on the board of the World Trade Center Association.
"Another achievement from our selfless and inspiring Board Chairman. Congratulations on your appointment as a DIRECTOR on the board of the WORLD TRADE CENTRES ASSOCIATION. Hearts of Oak congratulates you sir", a club statement reads.

Togbe has been the executive chairman of World Trade Centre Accra and was voted member of the board of directors of the World Trade Centre in 2015.

He founded SAS Finance Group Ltd, constituting Strategic African Securities Ltd, a stock brokerage and corporate finance advisory firm, and SAS Investment Management Ltd, an asset management firm.

The President of Asogli Traditional Area also founded Strategic Initiatives Ltd (SIL) a portfolio and private equity investment firm, and co-founded Sunon Asogli Power Ghana Ltd, Databank Financial Services and Africa World Airlines Ltd.

Togbe Afede is also a co-pilot of the Embraer 145 aircraft of Africa World Airlines which he piloted for the first landing at Ho Airport in April 2021.
Check the tweet below:


???????????? || SELFLESS AND INSPIRING LEADERSHIP

Another achievement from our selfless and inspiring Board Chairman.

Congratulations on your appointment as a DIRECTOR on the board of the WORLD TRADE CENTRES ASSOCIATION.

Hearts of Oak congratulates you sir. #AHOSC#PositiveEnergy pic.twitter.com/irMQEnN5tS

— Phooobia! - #WeNeverSayDie ???????? (@HeartsOfOakGH) September 19, 2023
Ghana's leading digital news platform, GhanaWeb, in conjunction with the Korle-Bu Teaching Hospital, is embarking on an aggressive campaign which is geared towards ensuring that parliament passes comprehensive legislation to guide organ harvesting, organ donation, and organ transplantation in the country.

Click here to start the nomination process for the 2023 GhanaWeb Excellence Awards



LSN/KPE