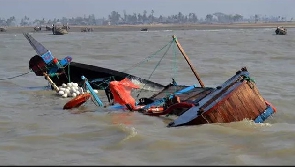 A boat transporting some over 40 passengers including some mourners from Azizanya to Azizakpe in the Greater Accra Region has capsized.
The accident, according to the Assembly member of Azizakpe Electoral Area, Daniel Adzakpa, was due to the overloading of passengers onto the boat.

He indicated that the boat was supposed to carry approximately 25 persons at a time but had passengers numbering about 60 at the time of the incident.

Daniel Adzakpa also attributed the disaster to a stormy weather in the early hours of Saturday, March 18, 2023 while the mourners were being ferried to a funeral in Azizakpe.
In a 3news report sighted by GhanaWeb, about 5 persons have been reported dead amidst the search for the others by the rescue team.

Some residents upon hearing the news have thronged the river banks to help search for the victims.

ESA/WA