Bob Marley's 'Stir It Up' featuring Sarkodie beautiful work; his spirit would be excited – Bisa Kdei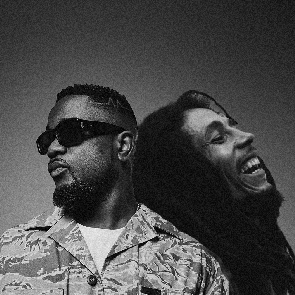 Ghanaian highlife musician Bisa Kdei has described The Bob Marley and Wailers featuring Sarkodie 'Stir it Up' as a beautiful piece of work.
The musician speaking on Rainbow Entertainment on Rainbow Radio 92.4Fm said, "I think it is beautiful. It is something beautiful. I would be proud if I were asked to feature on a Michael Jackson song. I would be so honoured. It is a beautiful thing," he stressed.

He described the late Bob Marley as a legend who everybody listens to till now.

"Bob Marley is a legend. People still pay attention to him. This is something his spirit will appreciate. Sarkodie's work is stunning. The people's love for this beautiful work has triumphed over their hatred. It's beautiful, and it's something we should embrace," he added.
The musician was speaking with the host Daniel Kweku Dadson.

People will hate you for no reason, according to Bisa Kdei, but that does not mean you are not doing your best.

"People will have an opinion on issues, but it doesn't mean you are not doing well. You will do whatever you want, but there is one person or two people out there that will talk about you and say they don't like It. It doesn't mean you are not doing well or haven't achieved what you want to achieve. Be focused and keep on doing your best."