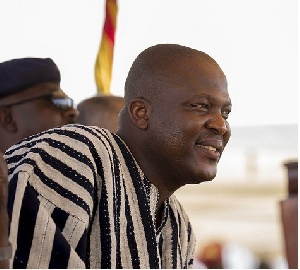 Some residents of Bole have held series of intercessory prayers for Ibrahim Mahama, brother of former President John Dramani Mahama who is settling scores with Economic and Organised Crime Office (EOCO) for dud cheques he gave to the customs division of the Ghana Revenue Authority (GRA)
Opinion leaders from the area Mohammed Hudu and Iddi Mankuma who are leading the religious exercise on Bole-based Nkiligi Fm disclosed that they cannot leave their kinsman in his trying moments.

According to them, residents of Bole are keenly following events surrounding the invitation of Mr Ibrahim Mahama who hails from Bole in the Northern Region indicating that history is on his side and so he will surely be vindicated and rise to more greatness.

The angry opinion leaders recounted how Mr E.A. Mahama, the father of Ibrahim Mahama was persecuted by his adversaries but was vindicated rising to become a Minister under Dr Kwame Nkrumah's government and wealthy man.

To this end, they called on both Muslims and Christians in Bole to intercede for him urging the traditionalists to also call on the gods of Bole to expose those behind what they describe as the "political persecution" of their son Ibrahim Mahama.
The Chief Executive Officer (CEO) of Engineers and Planners last week was ordered by the Economic and Organised Crime Office (EOCO) to pay GH¢12.7m to the Ghana Revenue Authority by May 8, 2017.

The amount represents duty for goods he cleared at the Tema Port with the said dud cheques in 2015 plus interest. The interest on the amount was worked by the Ghana Revenue Authority.

Ibrahim Mahama is allegedly being investigated by EOCO over specific cheques he issued to the customs division of the Ghana Revenue Authority (GRA) at the ports to clear heavy duty equipment imported into the country.

After his first meeting with officials of EOCO, he was asked to deposit his traveling passport pending the outcome of investigations into the whole incident.