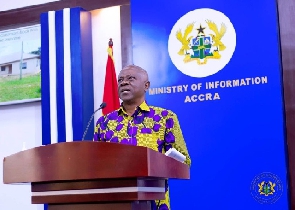 The Ahafo Regional Minister, Mr George Boakye, has assured the chiefs and people of Bomaa in the Tano North municipality that the curfew in the area will be lifted tomorrow January 11, 2023, after an assessment by the security apparatus.
According to him, if everything is okay after the assessment by the security apparatus the curfew will be lifted for lives to return to normal in the area.

He said for now the curfew is better than the sporadic shootings in the area over the installation of a rival chief by one Aduana group.

He said the 5 p.m. to 7 a.m. curfew was to save the situation from further escalating in the area.

He noted that what happened on Sunday, January 8, 2023, at about 11 p.m. when news broke that a rival chief had been enstooled was an eyesore hence the decision to impose the curfew to save lives and properties.

The regional minister gave this assurance while speaking in an interview on the Ghana Yensom morning show hosted by Odehyeeeba Kofi Essuman on Accra 100.5 FM on Tuesday, January 10, 2023.
According to him, what triggered the chieftaincy conflict was a decision to organise the burial of the late chief Nana Kwafo over the weekend only for another rival group to go and enstool a new chief.

Earlier, the Ahafo Regional Minister, George Boakye in collaboration with the members of the Regional Security Council (REGSEC) and in consultation with the Interior Minister and the National Security Minister imposed a curfew on Bomaa in the Tano North Municipality.

The curfew according to a statement signed by Mr Frimpong Andrews, the Personal Assistant to the Minister, was to be in force from 5 p.m. to 7 a.m. every day pending periodic assessments and reviews.

The decision of the Ahafo REGSEC according to the statement was necessary following violent clashes that claimed one life and caused injuries to five others on Sunday night.

In recent times, there has been chieftaincy disputes between two factions in the town.
Mr George Boakye and top security officials in the Region as well as Ernest Kwarteng (MCE, Tano North), Yaw Osei Boahene (MCE, Asunafo North) have since visited the community to assess the situation at firsthand.

The Minister and his entourage visited the family of the deceased to commiserate with them on their loss and charged the security officials to continue full investigations until justice is served.

They also touched base with the traditional leaders of the two stakeholder groups in the town to appeal for calm.