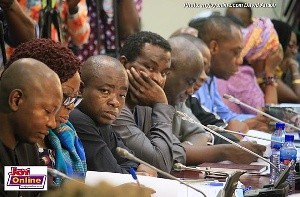 The Minority in Parliament has dismissed reports in a section of the Ghanaian media that the Commission on Human Rights and Administrative Justice (CHRAJ) has exonerated Finance Minister Ken Ofori-Atta from any wrong doing in the issuance of the US$ 2.5 billion bond.
There were reports on Thursday, December 28 that CHRAJ has cleared Mr Ofori-Atta of conflict of interest in the issuance of the government's recent bond.

The Commission started the probe into the matter after a member of the National Democratic Congress (NDC), Yaw Brogya Genfi, petitioned it in April, to investigate Ken Ofori-Atta's position in the issuance of the bond.

However, CHRAJ in its report said "On the basis of the evidence available to the Commission, it has come to the conclusion and therefore holds that, the allegations by the complainant that the respondent has contravened Article 284 of the 1992 Constitution by putting himself in a conflict of interest situation in relation to the issuance of the 5-year, 7-year, 10-year and 15-year bonds, have not been substantiated," it said in its report on the matter.

But the Minority in a statement reacting to this development said: "The Minority Caucus in Parliament has become aware of findings contained in the decision of the Commission on Human Rights and Administrative Justice (CHRAJ) on a complaint filed against the Finance Minister over the infamous US$ 2.25 billion bond in March this year.
"Contrary to some publications on a number of online portals to the effect that the Finance Minister has been cleared of wrongdoing, CHRAJ in its decision agrees largely with our stated position from the very beginning that the bond issuance did not follow due process.

"CHRAJ in its summary of key findings noted several breaches of statutory regulations governing the issuance of bonds and cited the Minister for conduct bordering on criminality. It is the considered position of the Minority that the adverse findings contained in the decision of the CHRAJ vindicate our position that the US$ 2.25 Billion bond issuance was fraught with irregularities and did not comply with Ghanaian law.

"We will engage the media next week to provide details of our position on the outcome of the investigations and consequential matters."